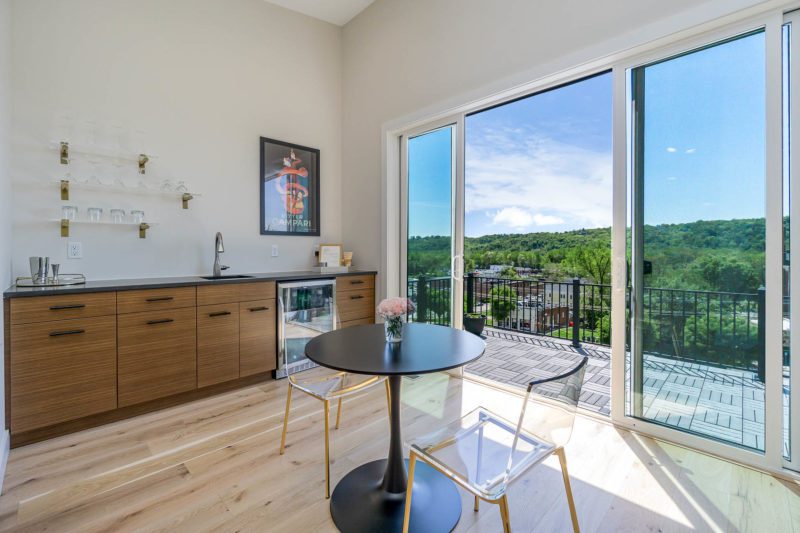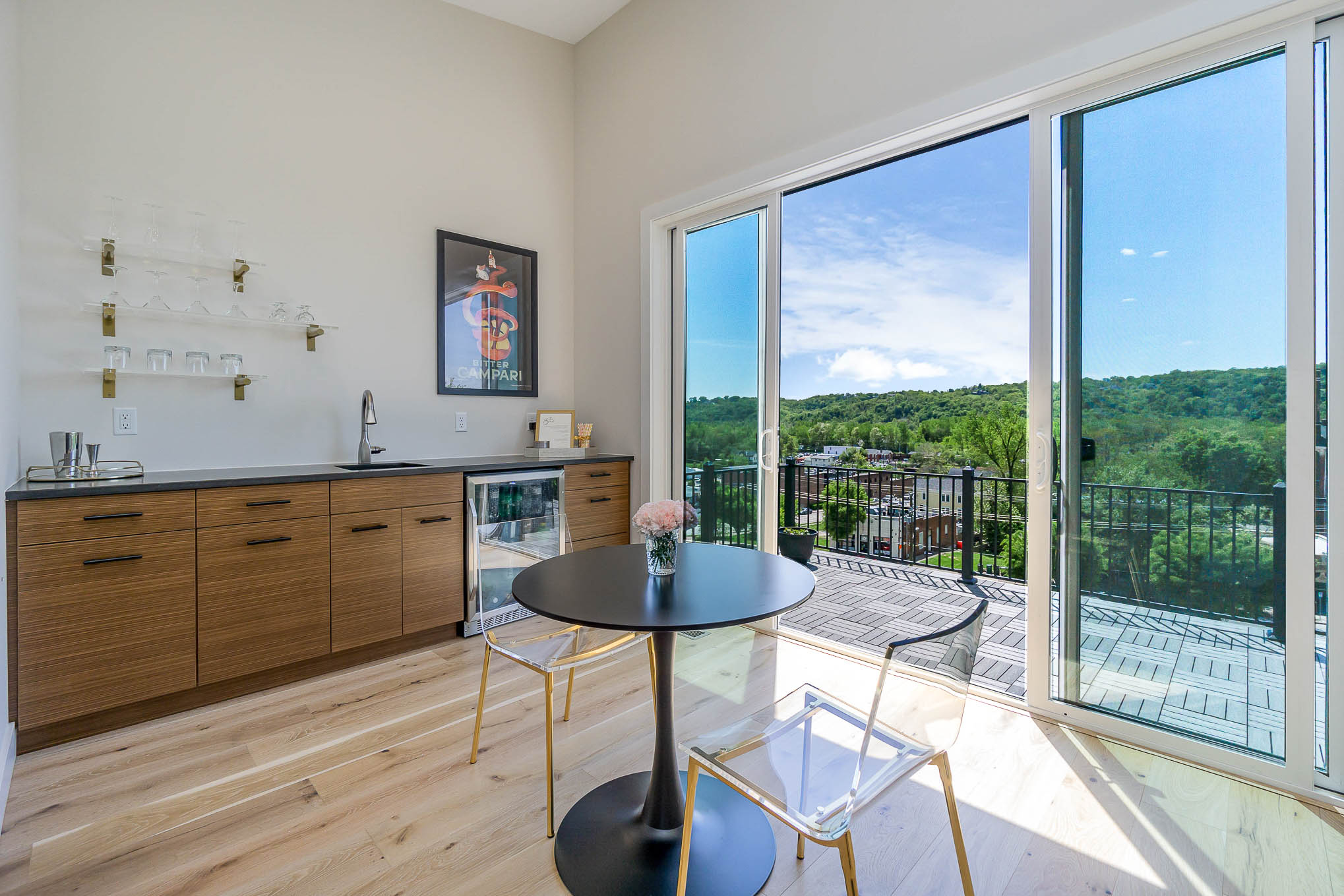 Donegal Row in Columbia-Tusculum changed dramatically in the past year! Specifically, there are two finished homes, three under construction, and plans for a model home. These new homes are a short walk away from local shopping, dining, and entertainment. As a result, availability is limited and these homesites are going fast!
Home Designs in Donegal Row
The homesites are approximately 100 feet deep and 50 feet wide. For this reason, homes in Donegal Row are three-four stories and shotgun-style. However, open concept floor plans and large windows make these narrow homes feel open and airy.
A homeowner can determine the size of the home, based on their needs. Therefore, these custom homes can range from 3,000-4,000+ finished square feet of living space. There can be 3-4 bedrooms, 3-4 bathrooms, and beautiful views from the upper floors and rooftop decks.
Most of the homes have a two-car garage on the lowest level. Bedrooms or family living spaces are typically on the next two floors. Finally, entertainment space and/or an owner's suite are often on the fourth floor for the best views. All of these design elements can be determined during the design phase of building a 100% custom home. At the same time, there are existing plans available to help inspire your own custom home.
Here are a few exterior photos of existing homes and homes currently under construction in Donegal Row. Additionally, you can view a Donegal Row finished and furnished home in our gallery.
Available Homesites & Amenities
Three homesites are currently available in Donegal Row. As you can see on the development sitemap below, homesites 2, 4, and 6 are currently available. The design plans for a model home are currently assigned to homesite #10. However, these plans can be built on any of the remaining homesites. The street itself, Feemster Street, is secluded and does not see heavy traffic. Additionally, Feemster Street is located on a hillside. As a result, these homes have great views and limited noise exposure from the street below.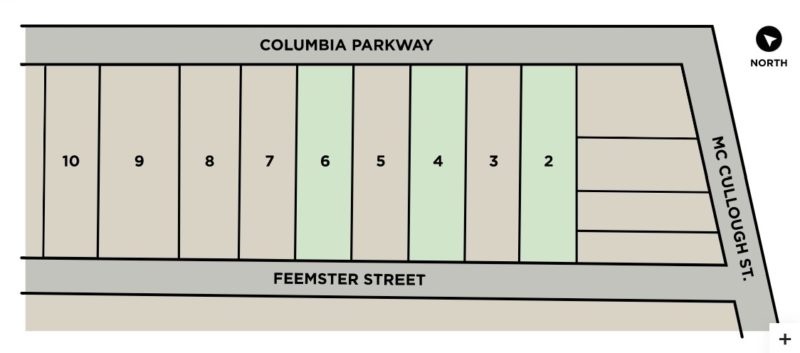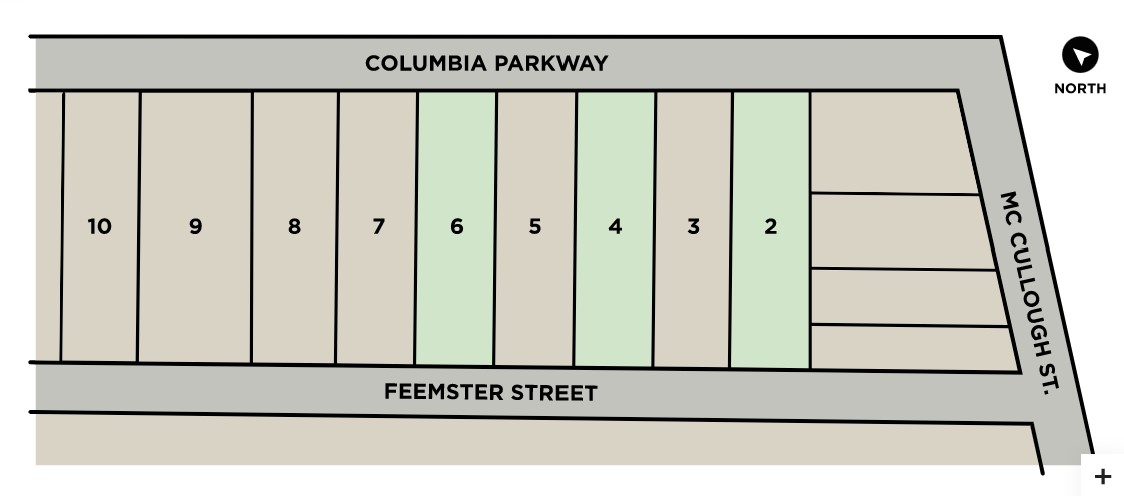 Excellent Location
One of the main benefits of being a resident of Donegal Row is the great views of Cincinnati's rolling hills. Another great aspect of Donegal Row's location is its vicinity to local businesses. At the bottom of the hill is Eastern Avenue in Columbia-Tusculum. This street has a host of breweries, restaurants, shopping options for locals to enjoy. In addition, restaurants and entertainment in Hyde Park, Oakley, Mount Lookout, and downtown Cincinnati are all within a 5-10 minute drive.
Also, for residents who enjoy outdoor entertainment, Alms Park is located behind the homes. A short walk down the street and under Columbia Parkway leads to the start of Alms Park, which has walking trails and playground areas. In addition, the Schmidt Boat ramp is just down the street for residents with boats!
Tax Abatement & LEED-Certification
These homes are LEED-certified and within the city limits of Cincinnati. LEED-certified homes in Cincinnati qualify for tax abatement. The abatement value depends on the price and LEED-certification level of the home. LEED-certified homes are energy-efficient homes that meet specific requirements outlined by the U.S. Green Building Council. As a result, energy-efficient homes save homeowners money on energy expenses and are better for the environment. Learn more about Cincinnati's tax abatement program and LEED-certified homes here.
Consider A New Home in Columbia Tusculum
Specifically, interested clients can start with an existing home plan and customize it. Clients can also work with our in-house architect to create a new home plan from scratch. Redknot Homes is eager to hear from you if you're interested in building at Donegal Row.
In conclusion, if you're interested in discussing a custom home or semi-custom home project with our new home specialists, fill out our contact form!