5-Step Semi-Custom Home Building Process
We recognize that a 100% custom home is not the right fit for many clients. Due to a tight move-in timeline, budgetary reasons, or personal preference, a semi-custom option can be the perfect fit to offer a unique new home, with financial savings and a shorter timeline to build. Our 5-step semi-custom home building process starts by working with your new designer to create your semi-custom home from the inside out. We prioritize full transparency, communication, and our detailed pre-construction process to keep your project on track and budget.
Our clients can pick a floorplan based on their location and budgetary desires, and then they can customize the interior and exterior features of their home. While many semi-custom builders have rigid limitations on what they will let clients choose for the exterior, we know the whole house matters in making a home truly yours.
TIMING: 2 weeks
During this stage, we will get to know you and share our Redknot process with you. We will go through your preferred location, budget, home design, specifications and special features for your new home. You will also have access to your new online project management system to communicate with your project team, make selections on finishes, and approve tasks.
TIMING: 2 weeks
At this stage, we review a 100+ page document of detailed specifications and sample selections for your new home. We don't just set budgets; we show you every specification and finish, so there are absolutely no financial surprises! The goal? Your signature approval on the dotted line!
TIMING: 4-8 weeks
This is where most of the heavy lifting is done! While we continue working through permitting, financing, and confirming your final selections, your construction team will review with you a detailed presentation of your new home on a room-by-room basis. This critical step ensures your new home is coming together in the way you envisioned it.
TIMING: 7-12 months
Now the fun begins! You'll be able to track the progress of your home via your new online portal, which will provide you with daily updates and images from your construction manager. There are also weekly phone calls and periodic site visits. Finally, once the majority of the construction is complete, we'll do a walk-through of your new home to check for imperfections.
After construction is complete and your home is white-glove certified, we do a detailed review of your entire home's features, maintenance items, and warranties. We will then hand over the necessary paperwork and keys to your new home! After you move into your new home, we are always available to assist with any questions or concerns you may have.
Semi-Custom Home Plans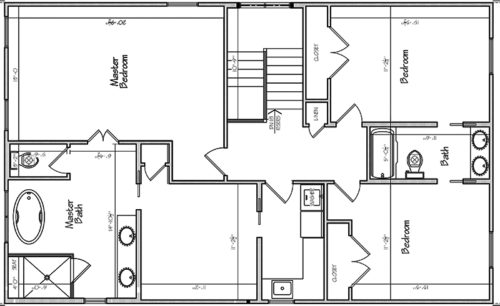 We continuously strive to provide innovative, luxury, and energy-efficient homes, no matter if it is a semi-custom plan or a custom home.
We offer several pre-designed home plans to make your decision process easier, with reflective elements and high-quality materials. Our team can guide you through your semi-custom home options.
LEED-Certified Homes Are Eligible for Tax Abatements
Part of our 7-step semi-custom home building process takes our love of crafting beautiful homes and combines it with environmental initiatives to deliver the best home possible for you and your family. We specialize in building LEED-certified homes that contribute many benefits to the homeowner, community, and ecosystem.
LEED-certified homes are energy-efficient, save owners thousands in utility costs, and receive a significant tax reduction in Cincinnati. Homeowners can save thousands of dollars in property tax each year by building a LEED home in the city. 
Find out how much you can save by viewing our Tax Abatement Calculator.
What is LEED?
LEED stands for Leadership in Energy and Environmental Design. It is a certification process set up by the U.S. Green Building Council (USGBC) to certify "green" homes. LEED homes are healthy, providing clean indoor air and incorporating safe building materials to ensure a comfortable home. And as a bonus, LEED-certified homes receive a significant tax reduction in Cincinnati.
Unparalleled Quality and Service