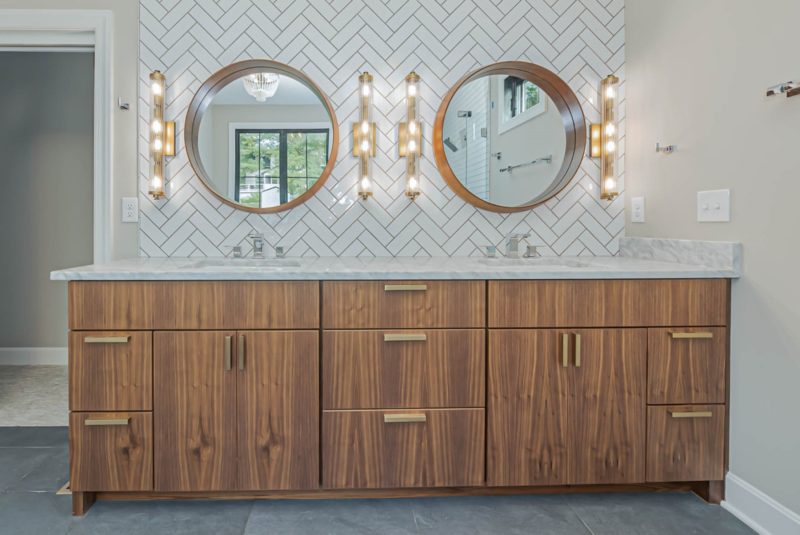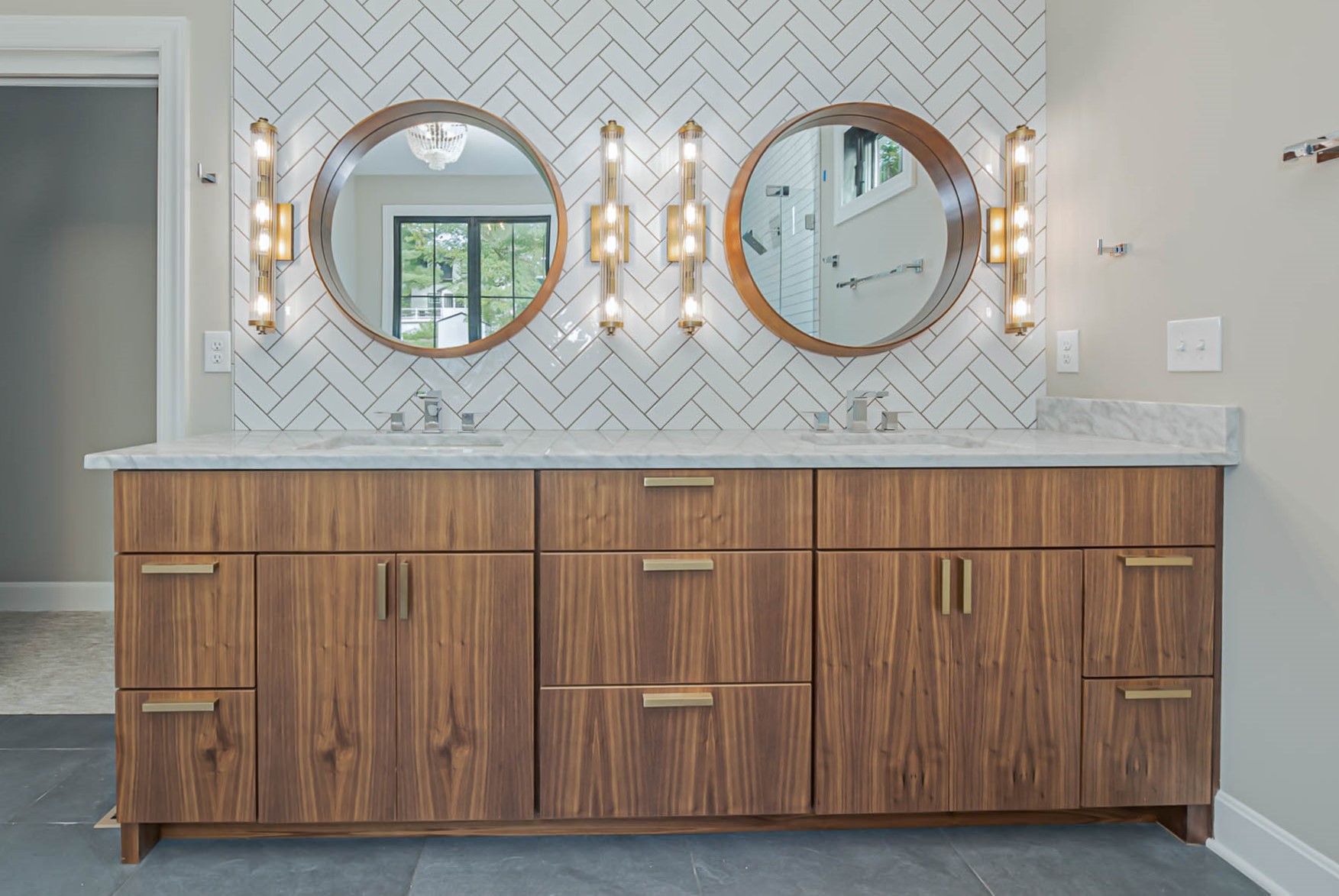 Bathrooms have a huge impact on the overall design and feel of a home. They can be a wonderful place of solace and self-care with the right design and features in mind. Whether you're building a custom home or considering a remodel, there are tons of new design options to explore. This blog has several popular new bathroom designs with photos from our custom, client homes.
Modern White Bathroom Design
White done right never goes out of style, which is why so many of our clients incorporate white in their bathrooms. The perfect combination of textures, finishes, tile, and accents keep white interesting and ageless.
For example, the walls in this custom bathroom are painted Benjamin Moore OC-65 – Chantilly Lace. The ceiling and trim are painted Sherwin Williams 7757 – High Reflective White. Large square white marble tile with gray veins runs throughout the bathroom floors and onto the shower walls. A smaller, rectangular marble tile is on the shower floor and an amazing stone accent wall rests above the stand-alone bathtub.
Classic Gray and White Designs
A popular neutral alternative to white is gray. The walls of this bathroom are painted Sherwin Williams 7662 – Evening Shadow. The ceiling and trim are High Reflective White. The hexagon flooring tile ties the gray and white elements of the bathroom together with white and gray marbling. The gray floating vanities have silver hardware with silver plumbing fixtures on the wall above. Specifically, silver mirrors, light fixtures, and plumbing fixtures in the walk-in shower also coordinate with the gray color scheme.
The owner's shower has a unique tile design. Hexagon tile is used on the shower floor and rectangular white wavy tile is on the shower walls. Finally, a small but elegant herringbone tile runs up the center of the shower.
Similarly, the second bathroom in this home has a unique shower design, combining white subway tile and gray penny tile in a horizontal pattern.
Another one of our custom home bathrooms with gray and white features was painted Sherwin Williams 7028 – Incredible White. However, gray tile accents and vanities break up the white nicely. White marble with gray vein flooring and shower tile throughout the bathroom create a seamless flow of floor space. Modern and unique floating vanities with a light gray stain and clear hardware tie into the gray veins of the marble tile.
Next, the second bathroom in this home has a white cabinet vanity with a speckled white and gray countertop and the same marble tile throughout.
Blending Neutrals Bathroom Design
If you're looking for an elegant and slightly modern look, but want more warmth than white has to offer, this next bathroom may be your favorite design!
This bathroom uses many neutral colors to create a warm and inviting space. White subway tile in the shower and in herringbone design on the vanity backsplash tie the two sides of the room together. The walls are greige, Revere Pewter by Benjamin Moore HC-172 to tie in the warm wood of the vanity and the gray tile flooring.
Bronze mirrors, lights, and cabinet hardware give the space an elegant, eye-catching contemporary modern design. The separate shower with seat and stand-alone tub give this bathroom and truly spa-like feeling for the highest level of self-care.
Fun Colored Tile Designs
Life needs color! If you love color, but want to keep a high-end and sophisticated look in your bathroom, using white and a single pop of colored tile could be the perfect design idea for you.
This gorgeous bathroom is mostly white, with white vanities, tub surround, countertops, and trim. The walls are painted Sherwin Williams 7671 – On the Rocks, which is a very light, cool gray. The light fixtures, plumbing, and cabinetry hardware are all a honey bronze finish which ties in with the warmth of the hardwood flooring throughout.
The shining star of this bathroom is the gorgeous pop of color in the massive walk-in shower. This handmade Persian-shaped tile is an iridescent blue and from floor to ceiling, really makes a statement.
Elegant Black and White Designs
Bringing bold black finishes into a bathroom design can perfectly balance out too much white. Specifically, this stunning owner's bathroom utilizes marbled white and gray finishes to tie the white and black together. The walls, ceiling, and trim are all painted Sherwin Williams 7008 – Alabaster white.
The vanities are a walnut honey finish with black hardware, black marbled countertops, and silver plumbing fixtures. The light fixtures are black, as well as the exterior of the stand-alone bathtub and the herringbone tile design in the large, walk-in shower.
This bathroom also has two very unique windows to bring in a lot of natural light, keeping the design light and airy, event with the black accents.
The second bathroom in this home also utilizes black in the design with floor to ceiling, black penny tile in the shower, and a black vanity.
Creative Powder Rooms
Although powder rooms are small, they are a necessary space in your home for your family and guests. Why not make that small space completely unique and creatively designed? Wallpaper is a simple way to help your powder room stand out! For example, check out these creative powder rooms from some of our client homes.
Designing or Remodeling Bathrooms
Finally, if you're interested in remodeling your bathrooms with any of these popular new bathroom designs, Redknot Homes can help! Visit our home remodeling page and fill out our remodeling form to speak with us about your project.
Alternatively, if you're looking for ideas because you'd like to build a new custom or semi-custom home, visit our building process page.  Specifically, this page will give you an overview of what our build process is like. Our seven-step home building process is tried and true, guaranteed to give you the home of your dreams!