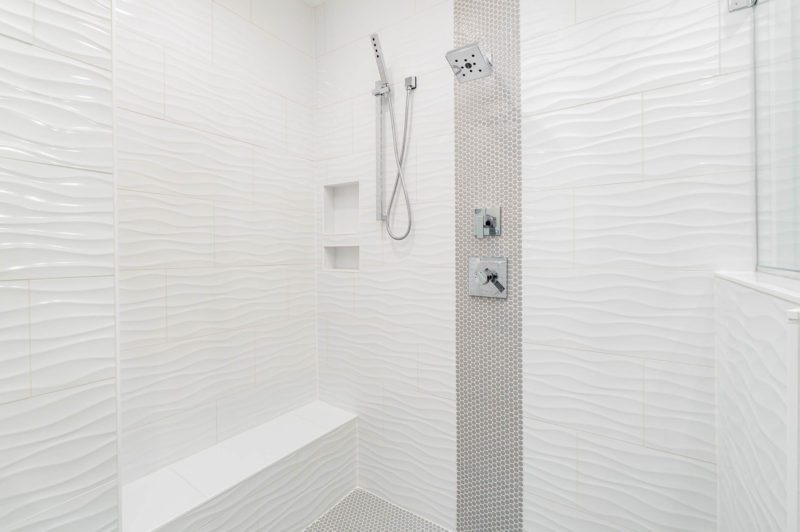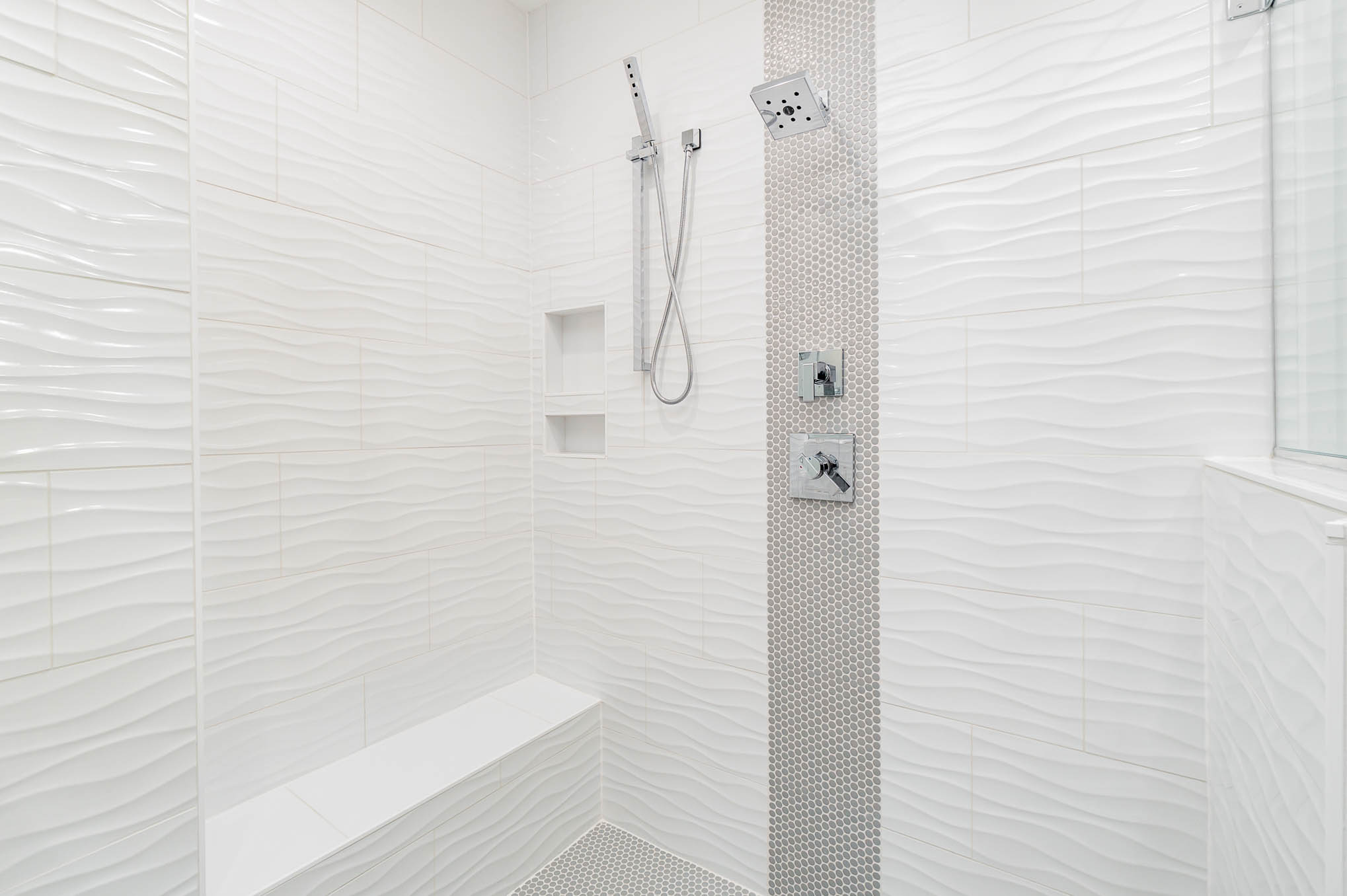 Mixing Shapes & Colors
There are endless options when it comes to tile material. Our clients can choose any tile in any pattern from any vendor to create a completely custom look. Use tile as flooring, a kitchen backsplash, in bathrooms, around fireplaces, etc. Specifically, this blog post will cover the most exciting luxury custom tile trends this year!
Using several different shapes, colors, and tile styles in the same area creates a completely custom space. Specifically, showers are a perfect space in the home to mix up tile designs. For example, the photo above features a wavy white tile and retro penny round tiles. The white wavy tile surrounds the shower walls. However, the penny tile covers the floor and is an accent runner up the wall to the showerhead.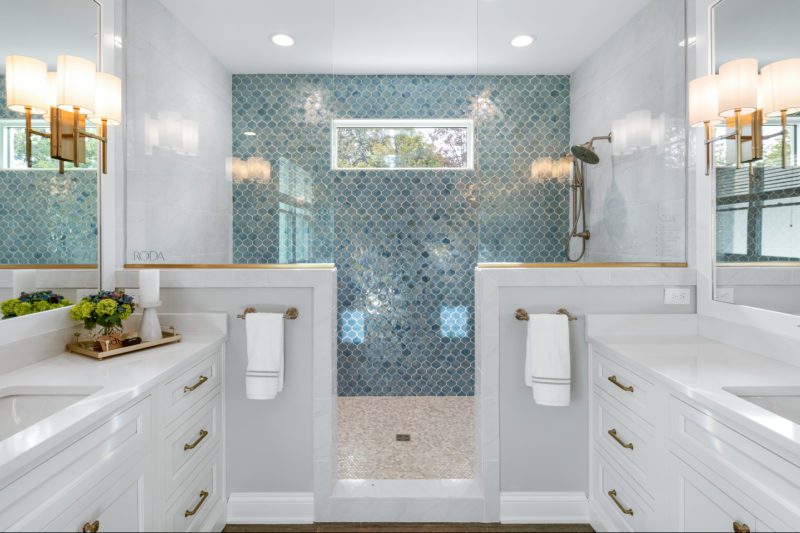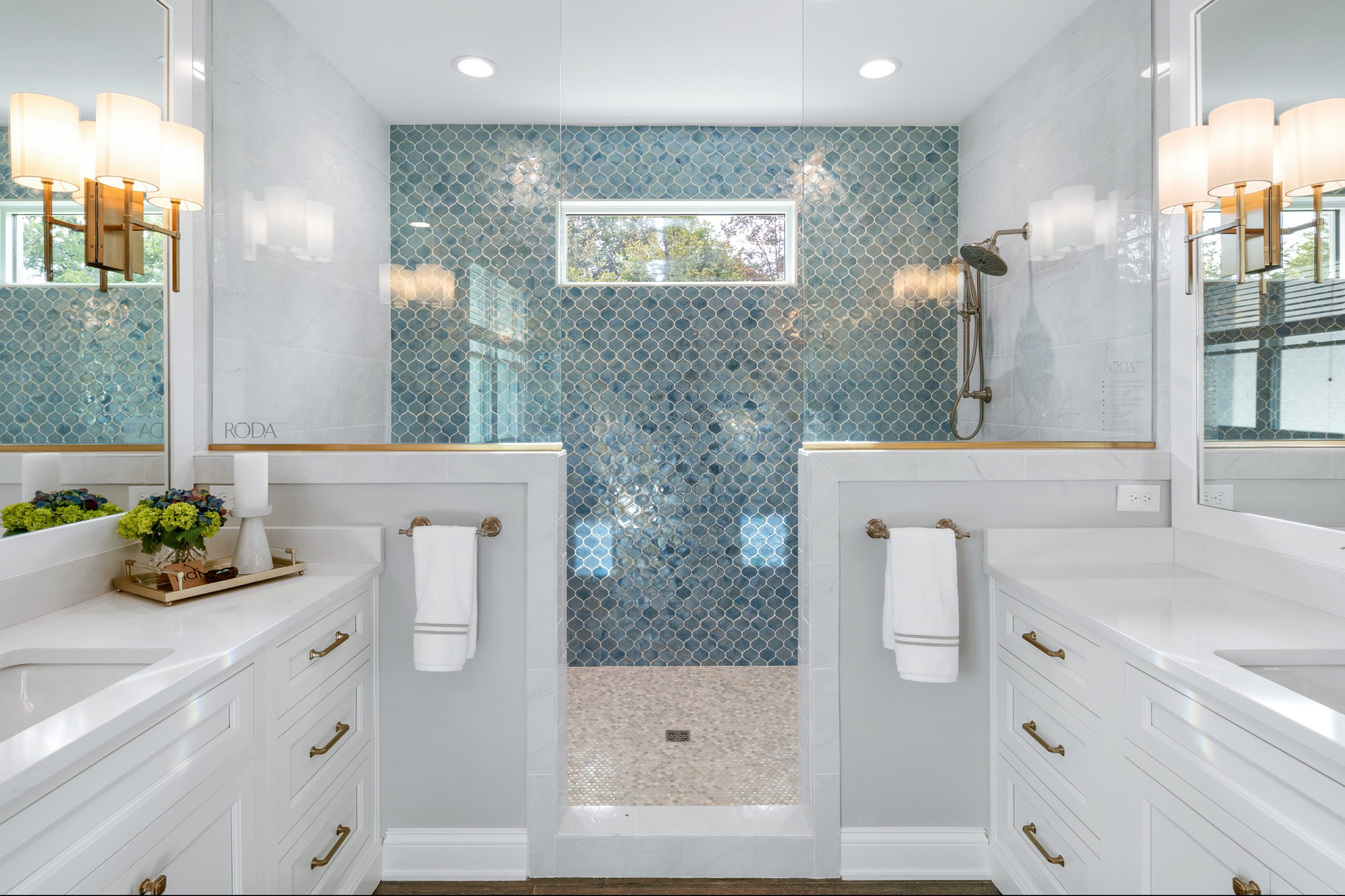 Vibrant Arabesque
Custom arabesque tile is a trendy and elegant tile option for various areas in the home. This tile design mimics many beautiful patterns in nature, such as aquatic and vegetative life. The soothing and elegant shape of the tile makes it perfect for spa-like showers. The photo above with arabesque tile on the shower wall is "Blue Shimmer" finish. Additionally, this home was a fan favorite in the 2021 Cincinnati HOMEARAMA® Show!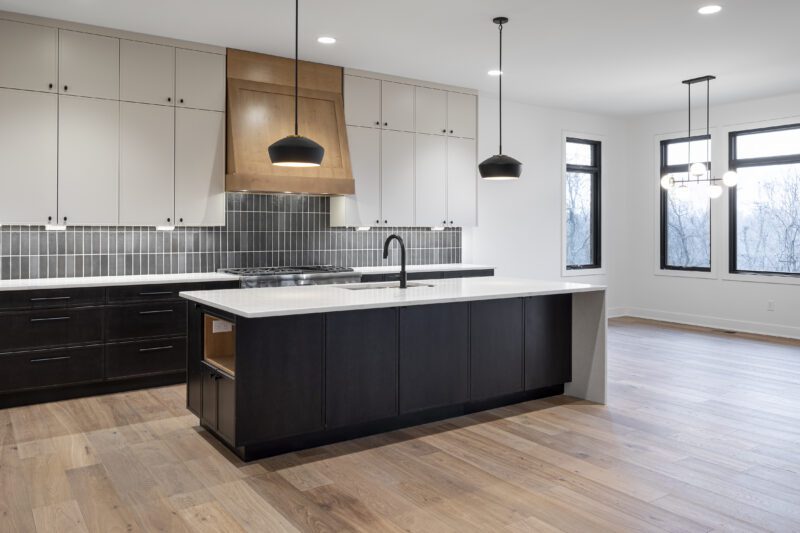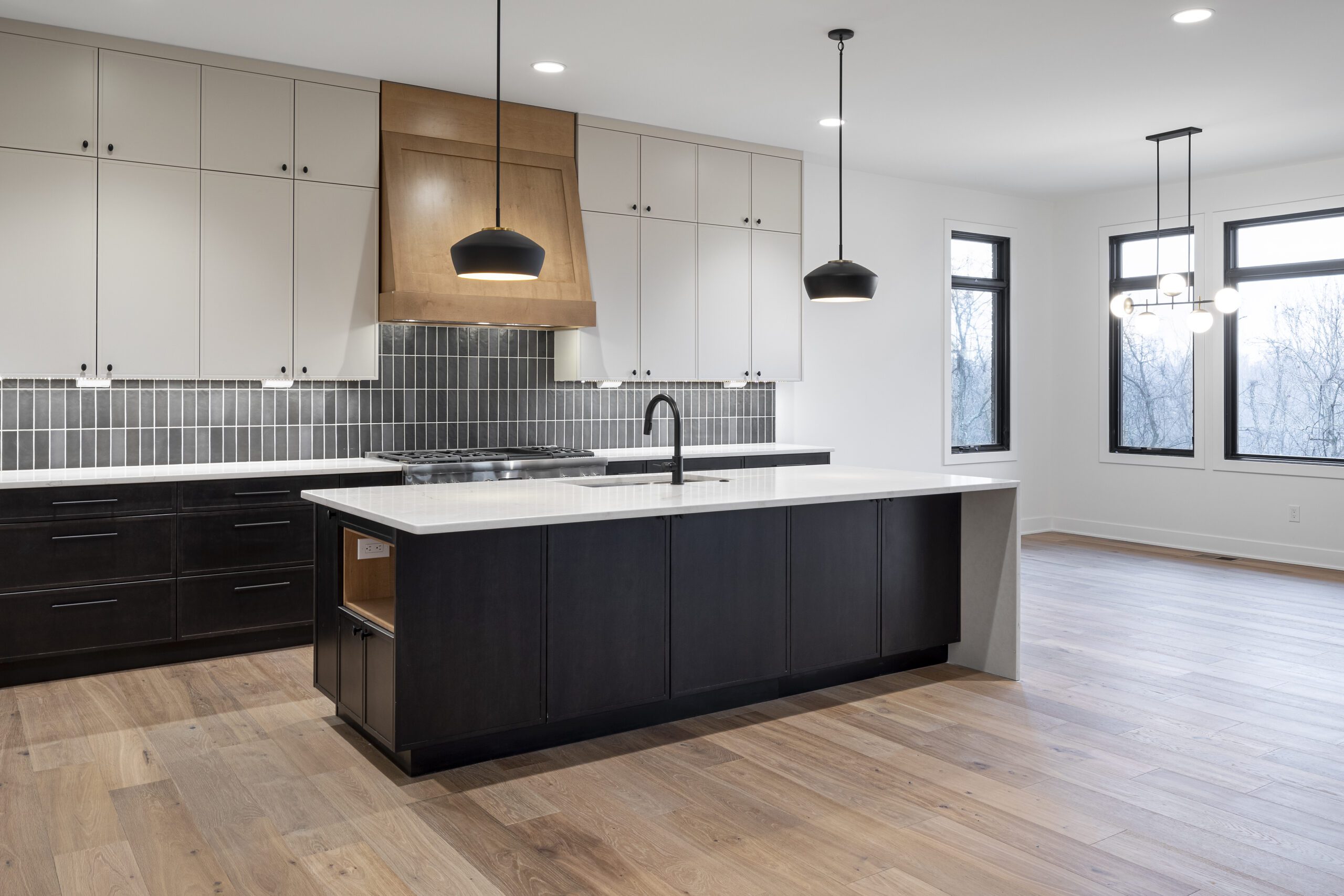 Skinny Vertical
A fun way to break up the monotony of basic subway tile, many people are flipping (literally) the script by going vertical! Use a skinny tile vertically for a backsplash for a sophisticated, modern feel. For example, the photo above features a 2×8 rectangular tile in "Magma Black Coal." This tile has gradients of black and dark gray for more dimensions. Alternatively, you could use this vertical design in a shower as an accent runner for a unique look.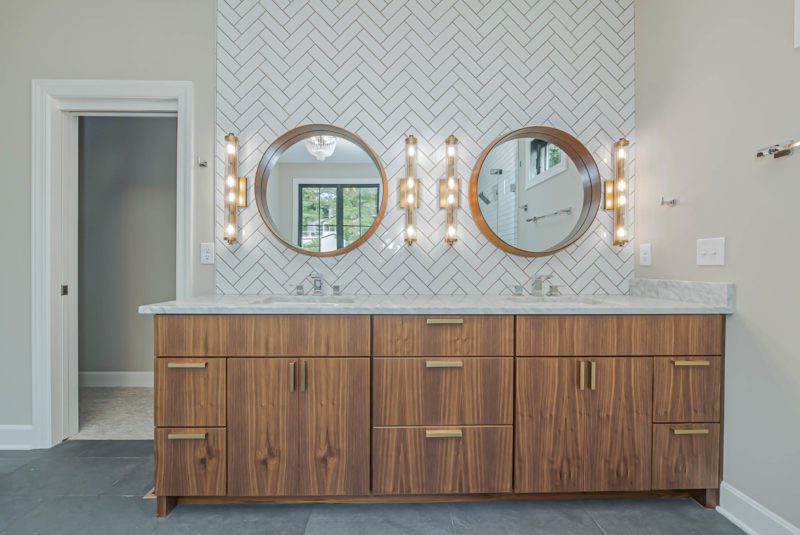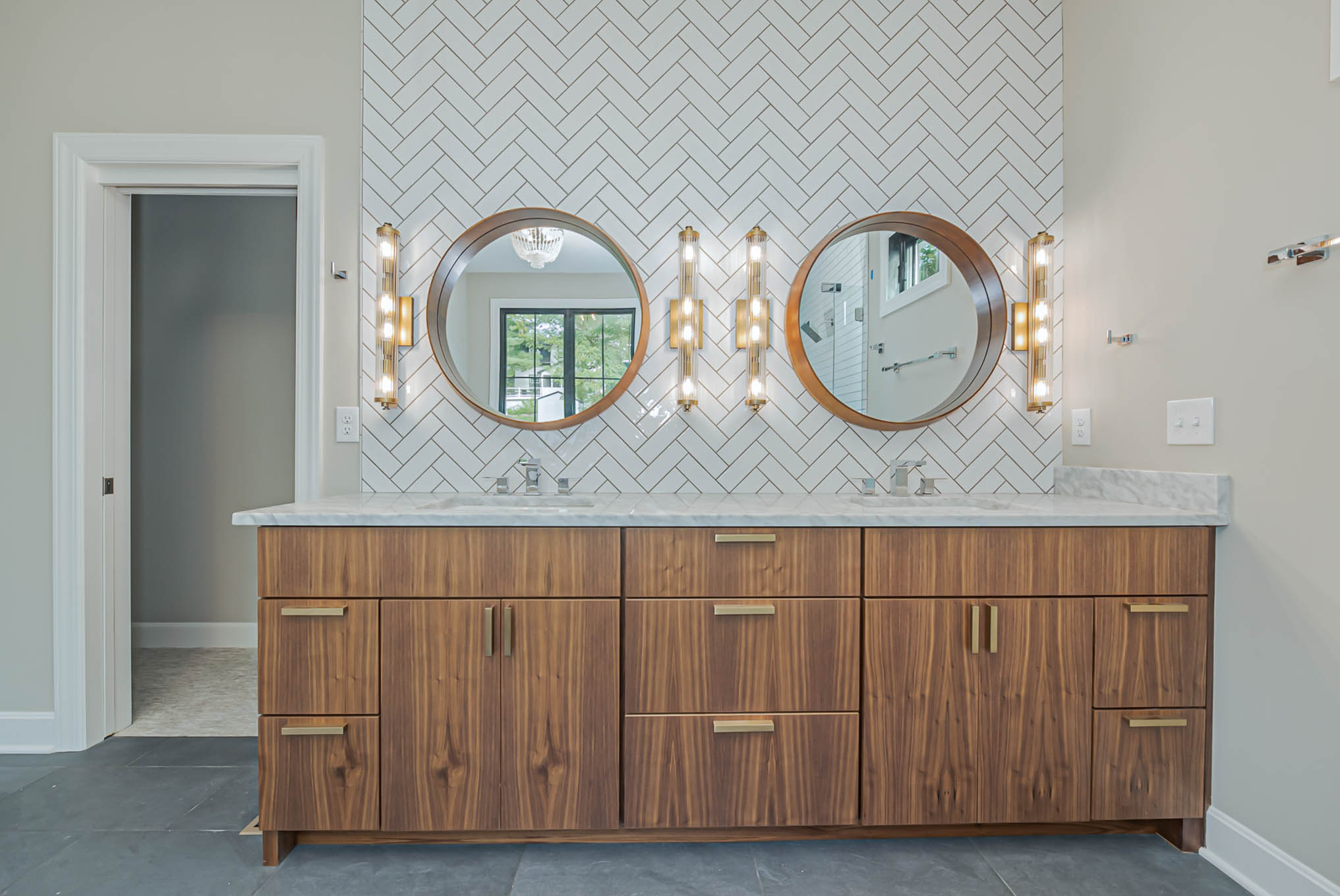 Herringbone
Similar but different from its cousin pattern, chevron, the herringbone tile is a very popular design option in 2022! Learn the difference between chevron and herringbone designs. Specifically, herringbone patterns are made up of equal-sized rectangular tiles. These tiles fit together, with one meeting the side of another tile. Different size tiles in herringbone design create very different looks. As you can see in the photo above, this client used 2×8 white tiles and gray grout for more definition.
Designing Your Dream Home
Finally, if you are considering building a custom home or a large renovation on your current home, we can help! Redknot Homes builds semi-custom, custom, and pre-designed homes in Greater Cincinnati. Additionally, we also offer large-scale renovation services. Our homes are built with the highest quality materials and luxury finishes.
Contact us if you are considering a new home or home renovation! Additionally, you can check our finished homes gallery for more inspiration and luxury custom tile trends for your home.