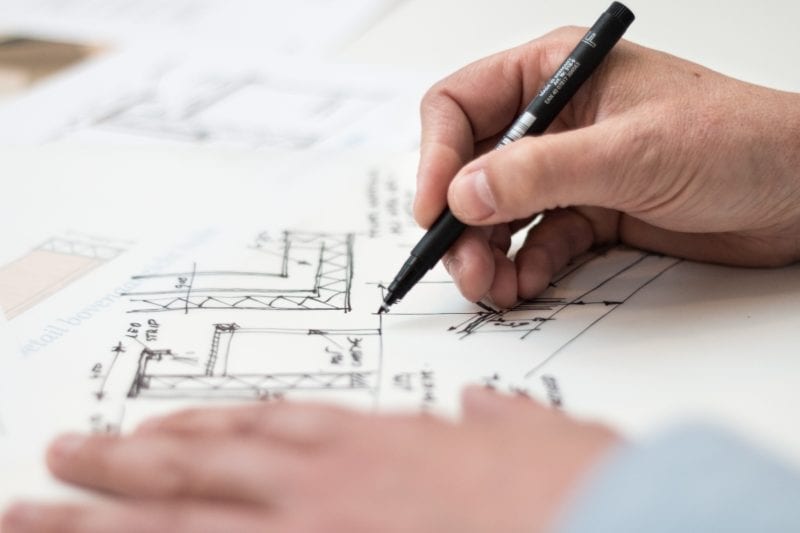 When constructing a new home, there are many factors to consider, including designing and building your new home. Two standard methods of producing a custom home are design-bid-build and design-build construction. What is the difference between the two, and how do you know which is the better option for you?
DESIGN-BID-BUILD CONSTRUCTION
The design-bid-build process is the most conventional construction form where the client hires an architect to create a set of plans distributed to builders to bid on. Design and construction are split between the architect (design) and builder (construction) with separate contracts and responsibilities under this structure. The architect has no responsibility for the budget, and the builder has no responsibility for the design timeline or flaws in the design. Typically, these projects end up with a team (architect, engineers, surveyors, subcontractors, builder, LEED consultant) that does not have extensive experience working with one another. Also, many times, the design and specifications need to be reworked after selecting a builder and considering the budget, zoning, permitting, engineering, surveying, mechanical design, building logistics, and LEED certification resulting in increased design timeline and fees.
DESIGN-BUILD CONSTRUCTION
Design-build is a process where the client and builder work collaboratively to design and build a home, considering all project goals, including a budget, design features, level of finish, energy efficiency, site considerations, and engineering. Design-build projects are collaborative and include input from the architect, trade partners, engineers, and the builder to achieve all goals of building a custom home.
PROS OF DESIGN-BUILD CONSTRUCTION:
Increased teamwork and collaboration

Builder is fully responsible for delivering on all goals of the project

Open communication

Eliminates boundaries and adversarial conditions

Ideal for a variety of building types

Faster project delivery

Less budgetary surprises
DESIGN-BUILD PROCESS AT REDKNOT HOMES
At Redknot Homes, we understand how to design and build a home, considering our clients' needs, wants, and budgets. With this process, Redknot is fully responsible to our clients to deliver on the entire project … there is no shared responsibility.
With our process, a home is designed collaboratively to fully understand the budget, wants/needs, and ultimate goals for the project. Our expertise spans from design to the building components and methodologies, zoning, site considerations and logistics, LEED certification requirements and tax abatement eligibility. As custom home builders, we see all sorts of building methodologies and understand which ones deliver the best cost/benefit return. Said another way, architects alone do not know what it costs to build various aspects of a home, but we do. The homes that we build follow our proven process and enjoy the following benefits:
SHORTER DESIGN & BUILDING TIME
We complete and finalize plans, specifications, pricing, permitting, and zoning much faster than those who choose the design-bid-build route since we are solely responsible for coordinating all aspects of the project.
BETTER COMMUNICATION
Communication with our team and to you is superior. We have extensive experience working together and a deep understanding of the plans and specifications for the project that we designed with our client.
ENHANCED COLLABORATION
Our engineers, surveyors, LEED consultants, and building trade partners are involved in the project from the beginning. This is key in Cincinnati and especially with building a LEED-rated home in the Hillside Overlay District. Because we have a dedicated team of professionals and strong working relationships, engineering fees are generally much less during planning and construction, and responsiveness is much higher.
A BUILDING PARTNER YOU CAN TRUST
We're invested in the project from the very beginning and don't charge any builders fee during the project's design phase. With this, we work hard to create a design that will meet your goals and your budget. As a part of the process, we price options and 'nice to haves' so that you essentially have a menu of pricing for items you may want to include in your home.
Overall our Design-Build Method results in the construction of a quality, custom home that is built more cost-effectively and in a shorter time frame.
The following is an overview of our design-build process from beginning to end:
INTRODUCTION AND FACT-FINDING
We'll discuss in detail your desired location/lot, budget, size, design/style, and features and explain our RedKnot process, team, and timeline.
DESIGN & BUDGETING
Why wait until the end to price your home? We don't like surprises. After our team has drafted interior floor plans and exterior elevations, we develop a detailed budgetary estimate for your home to make sure it can be built within a budget that you are comfortable with. If everything is not aligned at this point, we have an opportunity to make adjustments to the plans before spending time and money on construction drawings.
FINALIZE PLANS & SPECIFICATIONS
Construction plans, engineering, detailed specifications, and finish levels are created by collaborating with you. As a part of this process, we'll define a list of 'nice to haves' and 'must-haves' for your home.
PRICING AND CONTRACT
Detailed specifications are reviewed with you, along with detailed pricing of all allowances. We don't just set budgets … we show you every single item that supports an allowance so that there are absolutely no surprises. We review a 100+ page set of detailed specifications and sample selections for your home in this meeting.
PRE-CONSTRUCTION
This phase is where most of the heavy lifting is done! While we are working through permitting and financing, our team works with you to make all your home selections before we begin construction. Once complete, our construction team (sales, design, selections, construction management, and you) reviews a detailed presentation to confirm your home's design on a room-by-room basis. This process is critical to ensure we are building the home the way you envisioned it.
CONSTRUCTION
We communicate with you regularly regarding the status of your home. We do this via written updates shared through our online project management system and scheduled weekly phone calls.
POST OCCUPANCY & WARRANTY
After we have 'white-glove certified' your home, we do a detailed review of your entire home's features, maintenance items, and warranties. As a part of this, we summarize every warranty that comes with your home in one document. After you move in, you can expect the same communication and service level that we delivered during the entire build process.
Now that you've learned a little more about design-build construction, we hope you can see the advantages of pursuing this method. We have completed design-bid-build projects for clients before, and by the end of the project, they have all expressed wishing they had done a design-build with us instead.
If you're thinking of building a custom home for your family and are interested in learning more about how our process can work for you, please contact us to schedule a consultation.