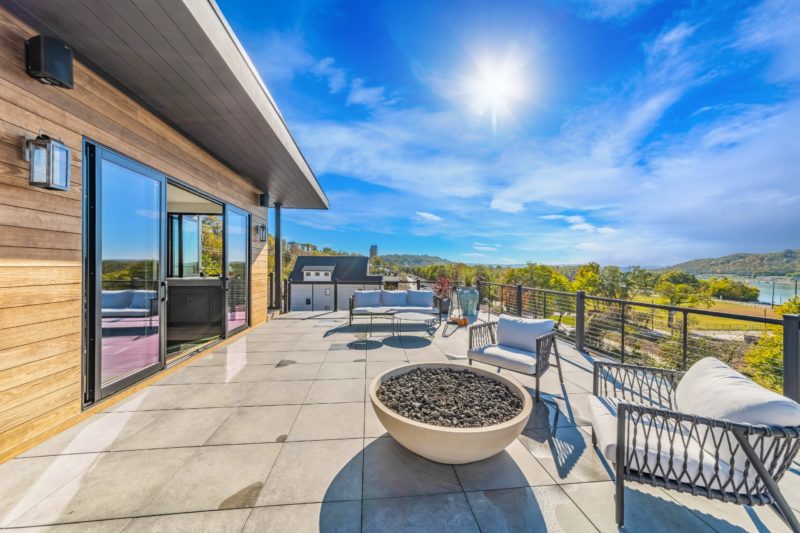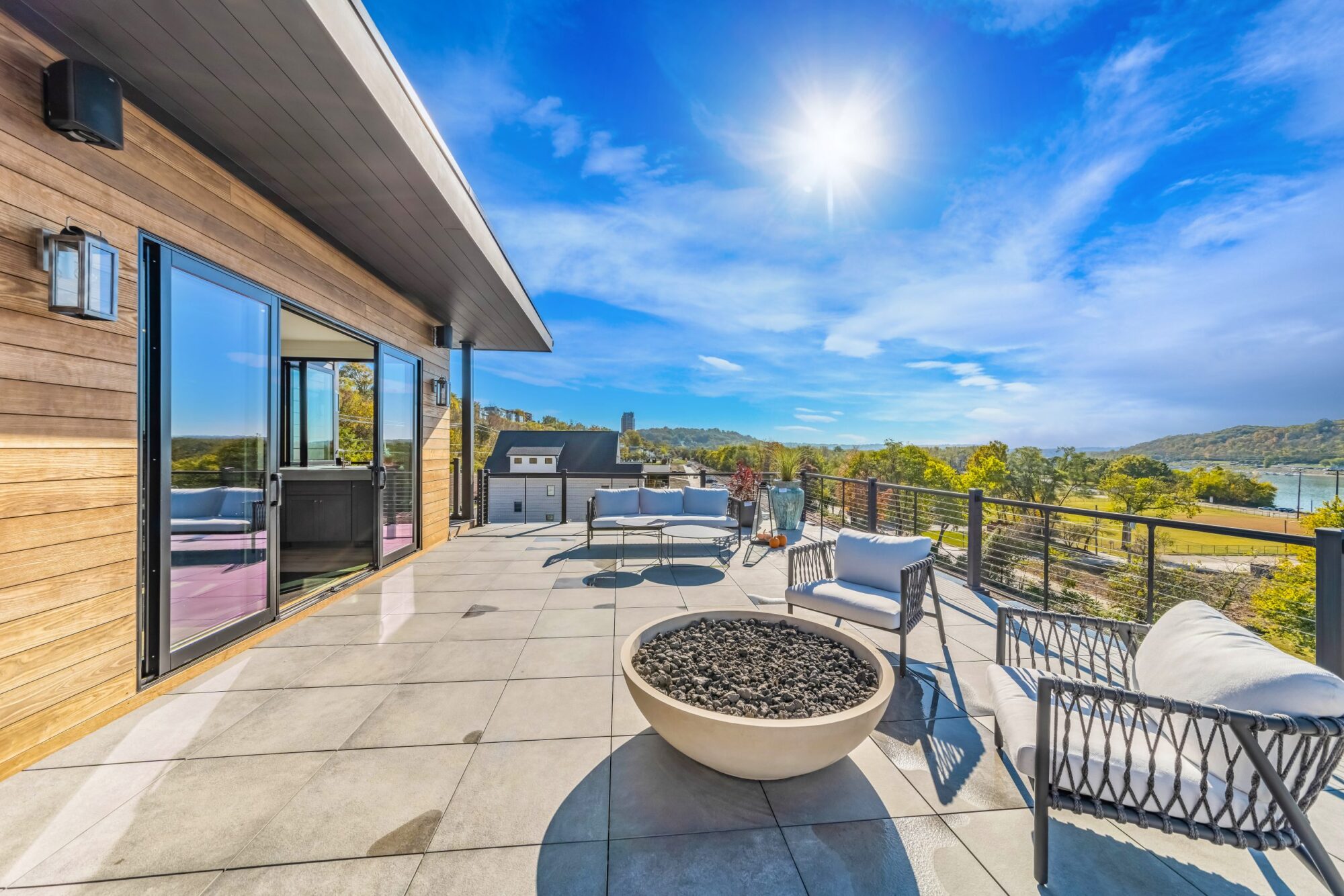 GET CREATIVE WITH YOUR OUTDOOR SPACE
If the year 2020 taught us anything, it is the convenience of outdoor entertainment space! This blog will discuss what features make a great and creative outdoor entertainment space. Additionally, we will share some photos of custom outdoor entertainment spaces at homes built by Redknot Homes.
CONVENIENT ACCESS
A great entertainment space, especially for your guests, should be easily accessible. Many homes have access to their outdoor space from the kitchen or main living area, making it simple to bring food and drinks outside. If your entertainment space is a rooftop deck on the fourth floor, as many of our Redknot homes are, an elevator is essential to ensure that all of your guests arrive safely and comfortably.
DRINKS AND FOOD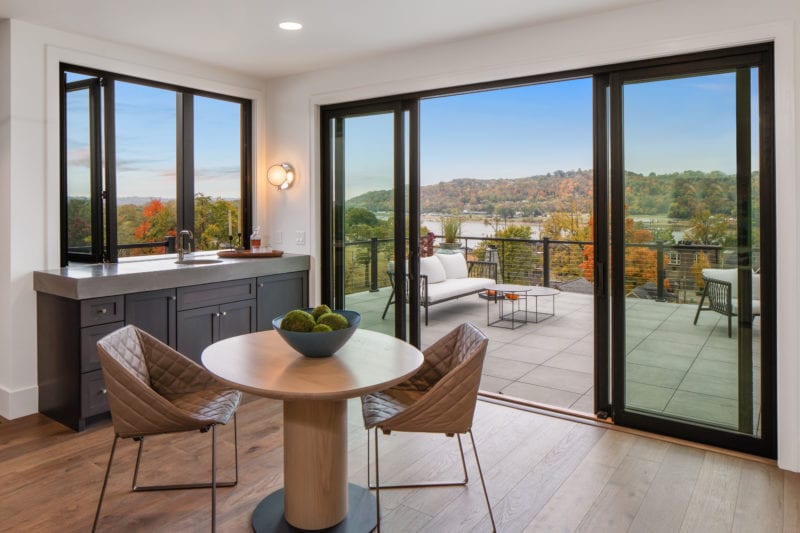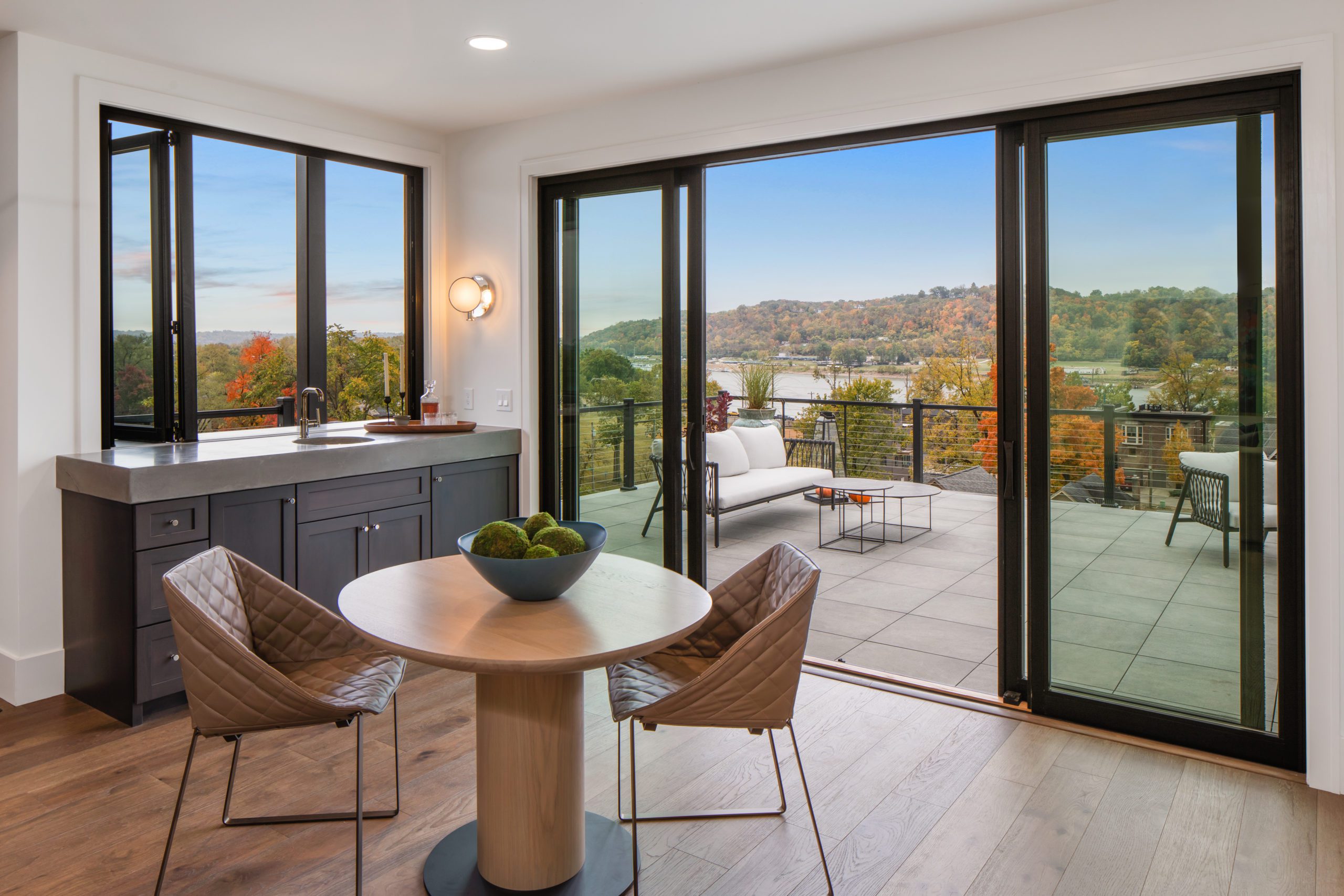 One of the most important elements of any entertainment space is a wet bar. A wet bar is a great addition to an entertainment space for convenient refills, whether you have a fully stocked bar and fridge for the adults or the kids.
If you frequently cook on the grill, having a sink and counter space to set out the hors d'oeuvres is also beneficial. Whether you're serving burgers and hot dogs or kebabs and ribs, an outdoor grill amps up the fun. Additionally, an entire outdoor kitchen makes entertaining with food much more convenient. Instead of being locked up in the kitchen, hosts can cook and prepare food outdoors while chatting with guests!
ACCESSIBLE RESTROOM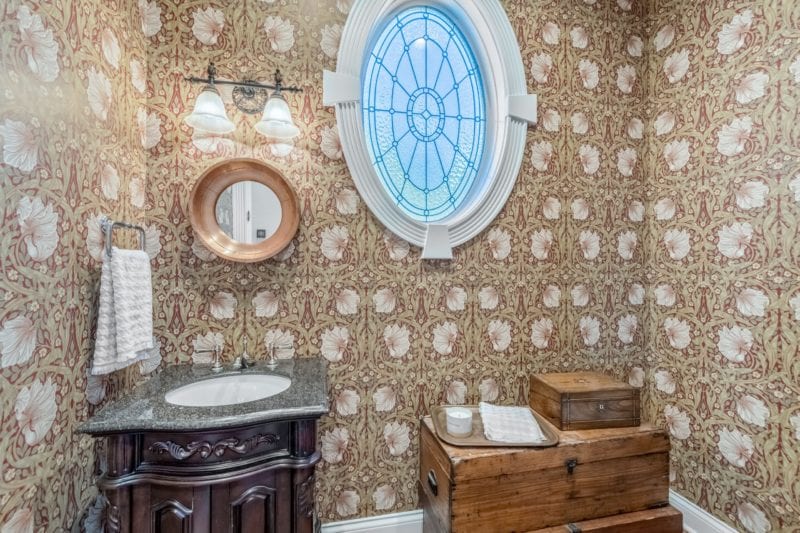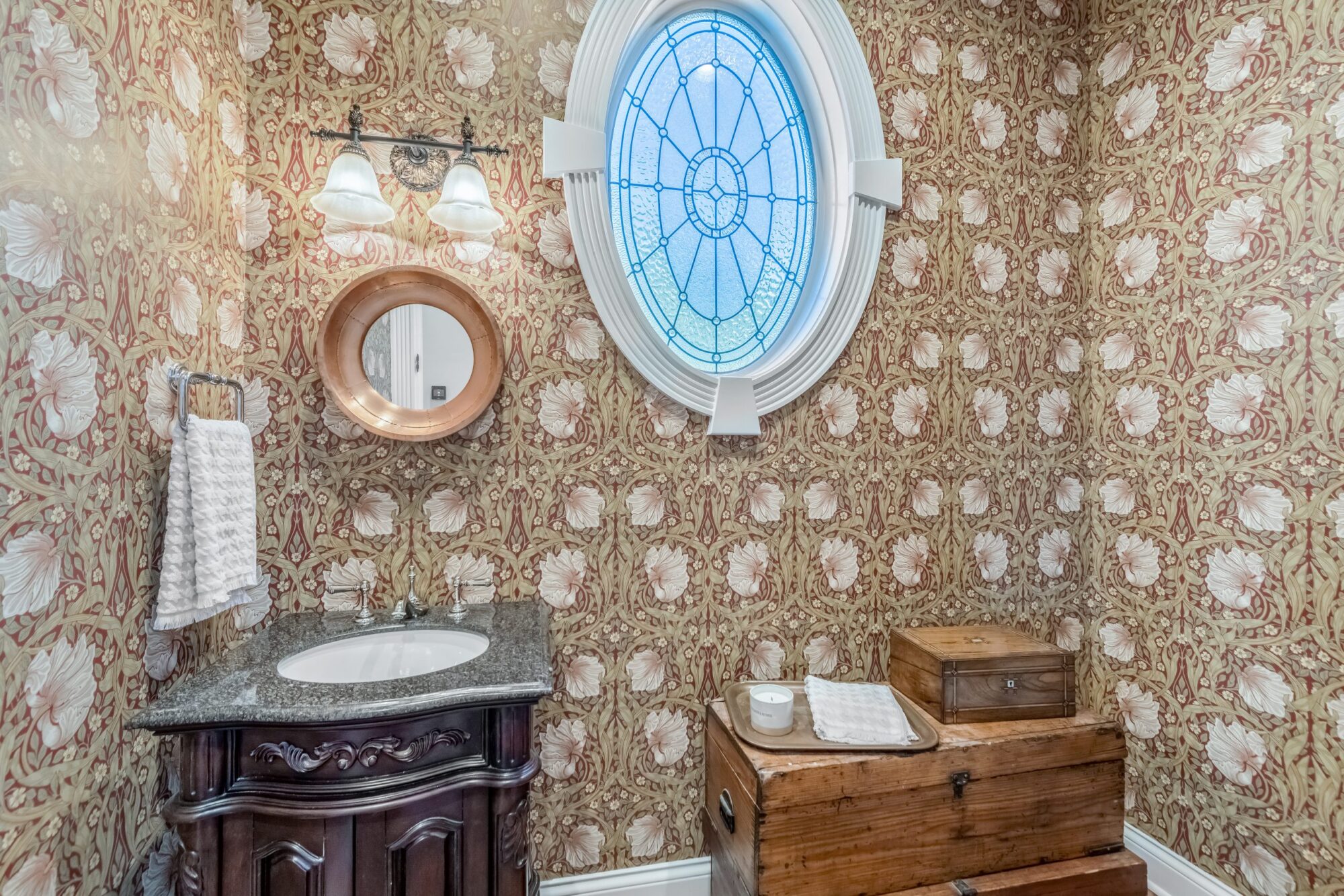 The last thing (most) guests want to do is search for a restroom in a bedroom, up or down the stairs, or throughout the house. In your interior floor plan, make it a priority to have a restroom close to the entertainment area. Dress it up with eye-catching wallpaper and unique finishes, even if it's just a small powder room, to make it a conversation starter among guests!
COMFORTABLE SEATING
There are practically infinite seating combinations that could work well in your outdoor entertainment area. You can build a stone wall for seating that wraps around a fire pit if you're starting from scratch. If you have the space, a comfortable sectional couch and some accent chairs are always a good choice. There are also a variety of inexpensive lounge chairs available in a variety of colors to brighten up your outdoor space. If you plan to eat meals outside on a regular basis, an outdoor dining table and chairs are a must-have.
A GREAT VIEW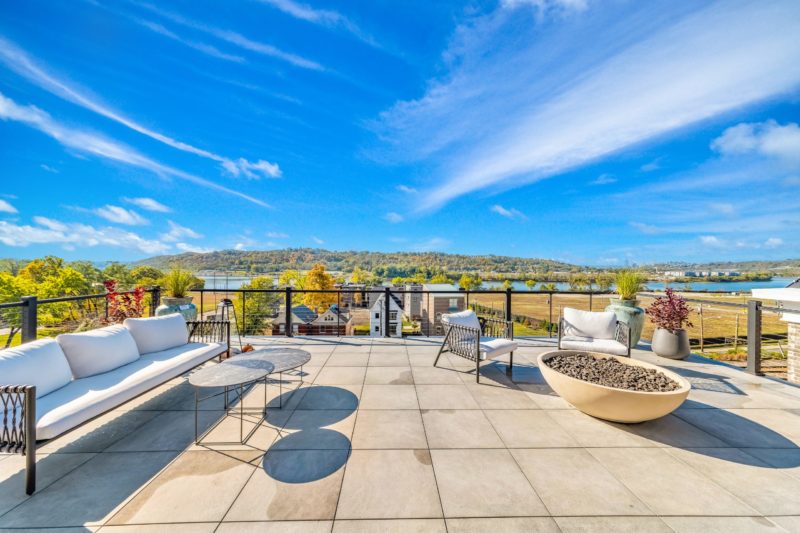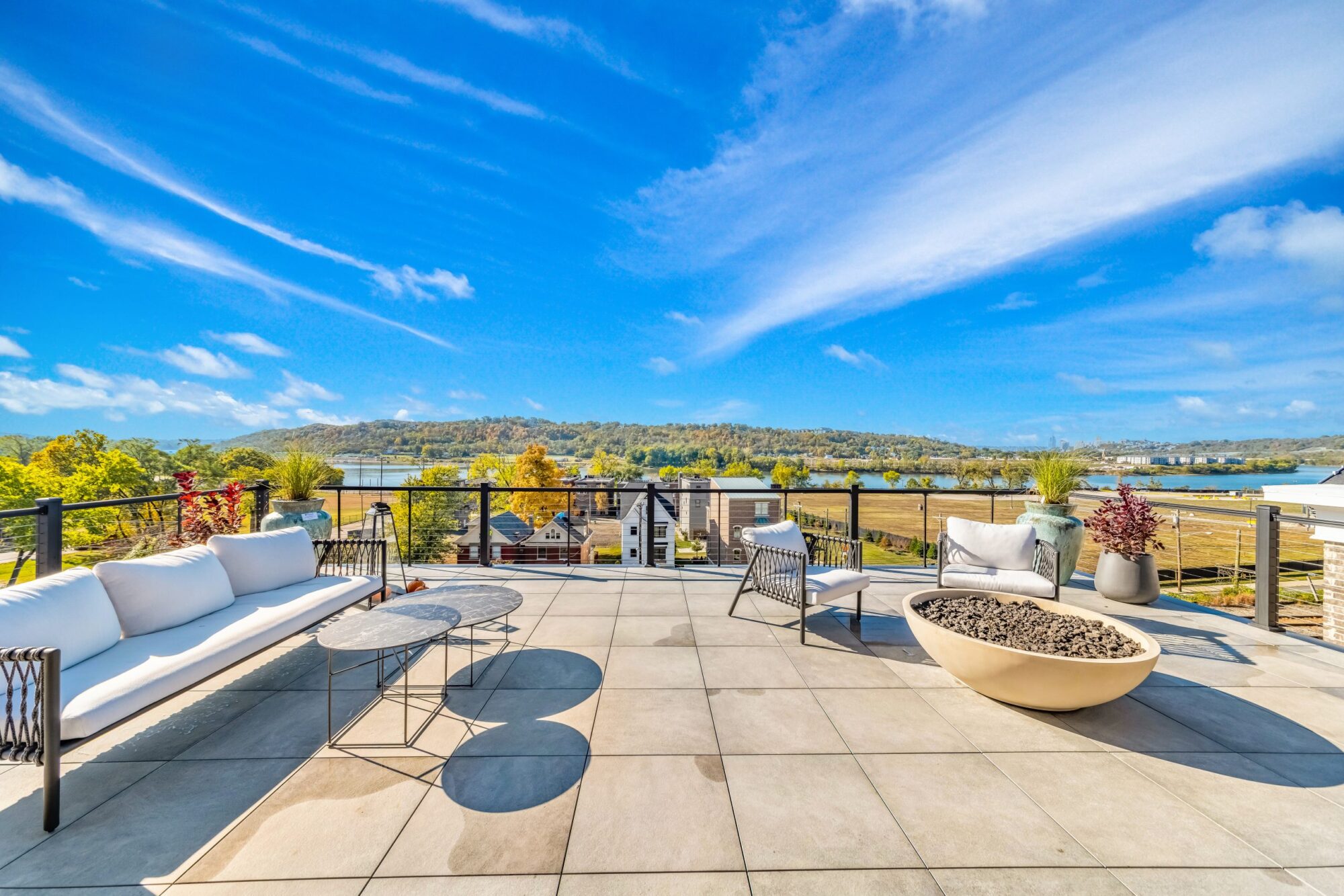 The majority of the custom homes we build at Redknot Homes are on city hillsides with spectacular views of downtown and/or the river. If you have a beautiful view from your home, try to incorporate it into your outdoor entertainment space. Consider adding a rooftop deck or patio with proper structural engineering if your view is best from high up.
Consider a privacy fence or a fun pergola to draw attention away from an unappealing view, such as a view of your backyard neighbor. You could also position your outdoor seating to face your house, a fire pit, or a water feature, and/or away from any eyesores. These elements can create the perfect ambiance in an outdoor entertainment space.
FIRE AND WATER FEATURES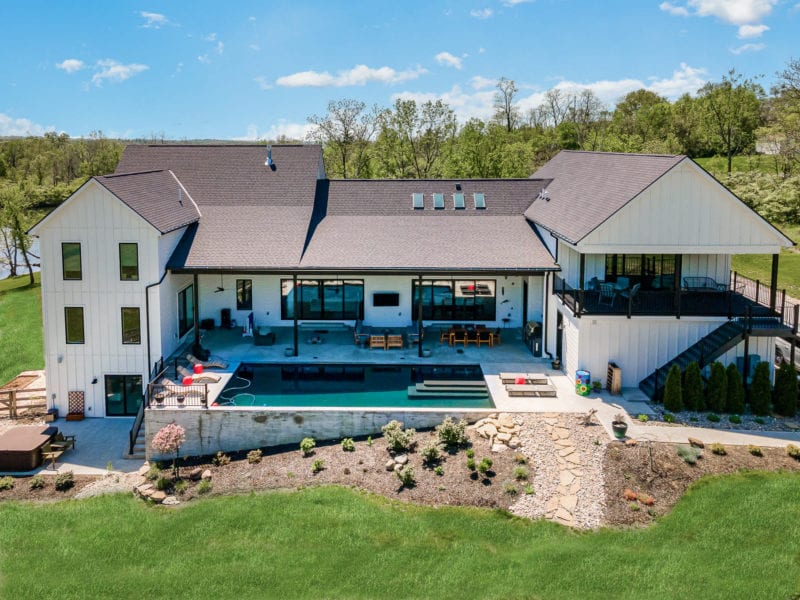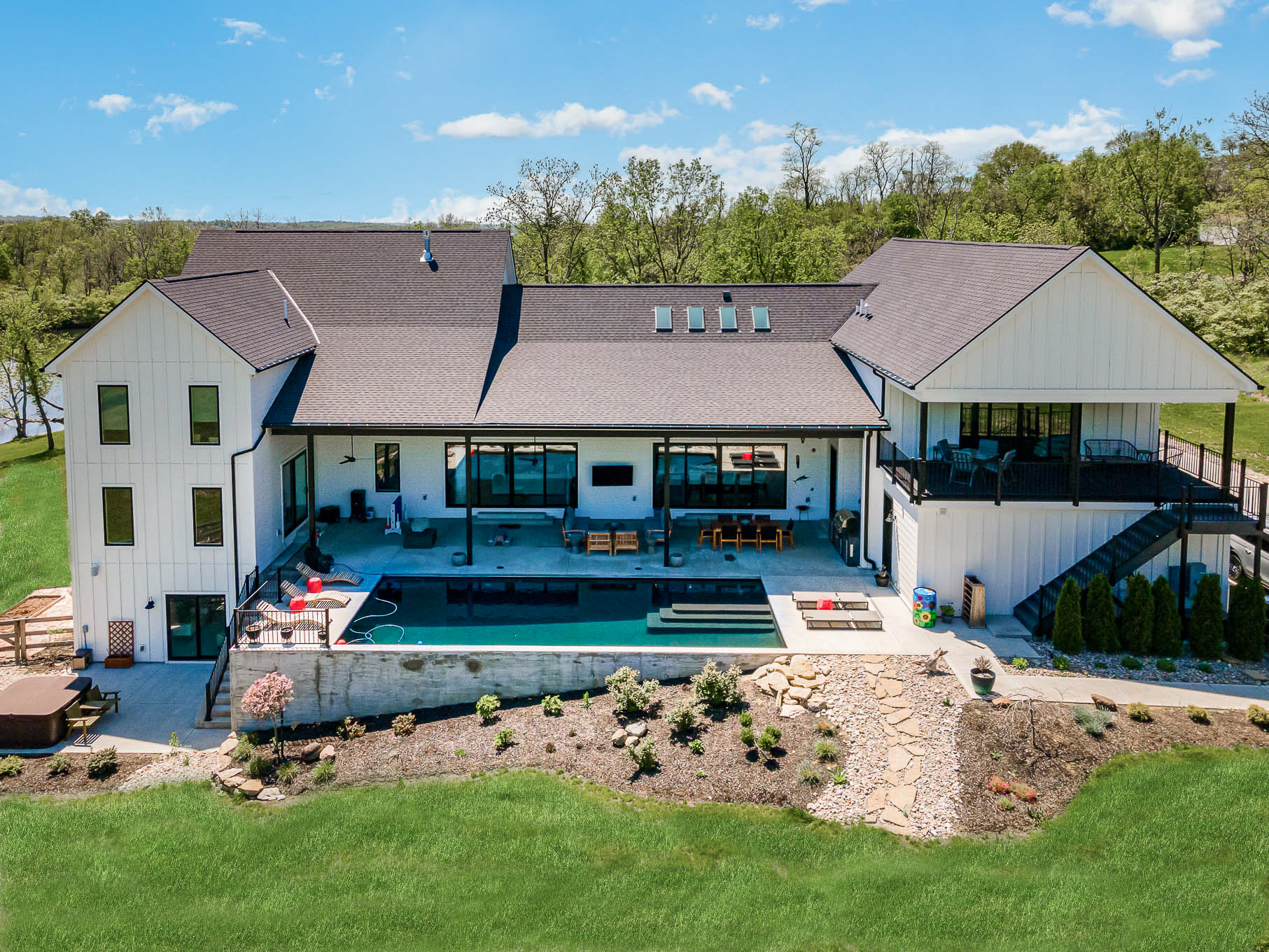 The natural elements of fire and water connect us to nature more than anything else! A fire feature, such as a simple fire pit or even a built-in fireplace, instantly warms up any outdoor space. Given the unpredictability of Cincinnati weather, having an outdoor heat source allows you to entertain comfortably in the cooler months.
Big-ticket water features like a pool or a hot tub, of course, provide endless entertainment for family and friends. If you don't have enough space or those options aren't appealing to you, a simple water feature, such as an infinity fountain or a fish pond, can add to your aesthetic design while also providing a relaxing experience for you and your guests.
BRING THE OUTDOORS IN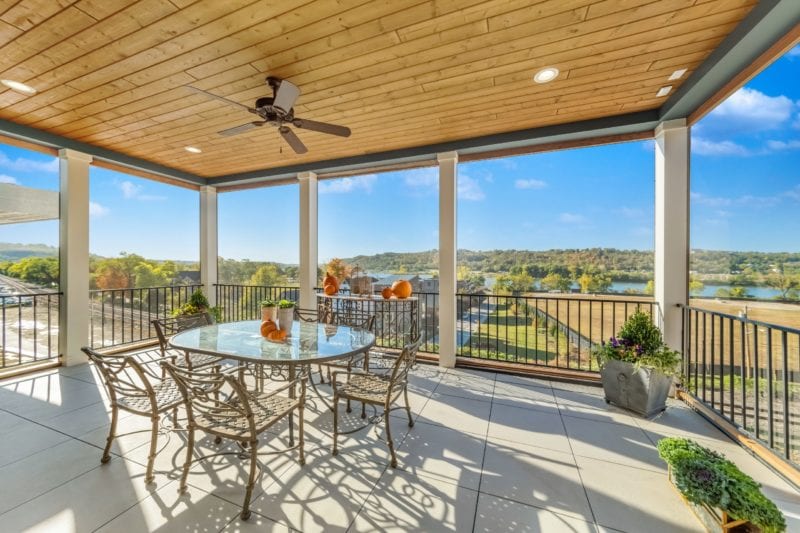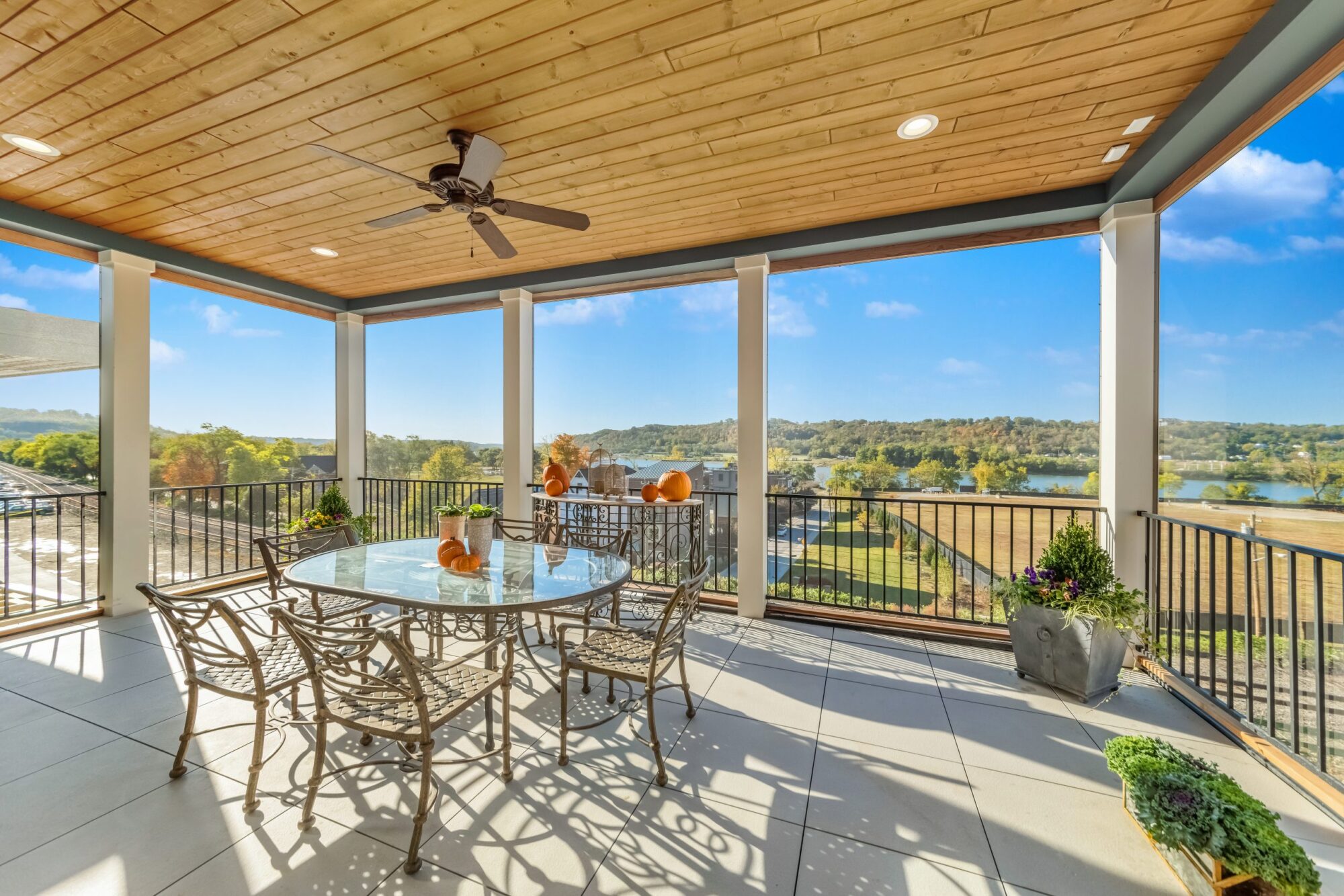 One of the most dynamic outdoor spaces a home can have is a screened-in porch! It lets the outside in without bringing in any of the unwanted elements, such as bugs! With Cincinnati's unpredictable and changeable seasons, a built-in fireplace makes this a room that can be enjoyed all year round. A big sliding door that disappears fully into the walls creates a seamless indoor/outdoor flow.
Build Your Dream Space
If you're interested in remodeling or adding additional entertainment space, indoors or outdoors, to your home, Redknot can help! We now offer remodeling services in addition to building custom and semi-custom homes.
Visit our remodeling page to learn more about this service or our contact page to fill out our new construction contact form.