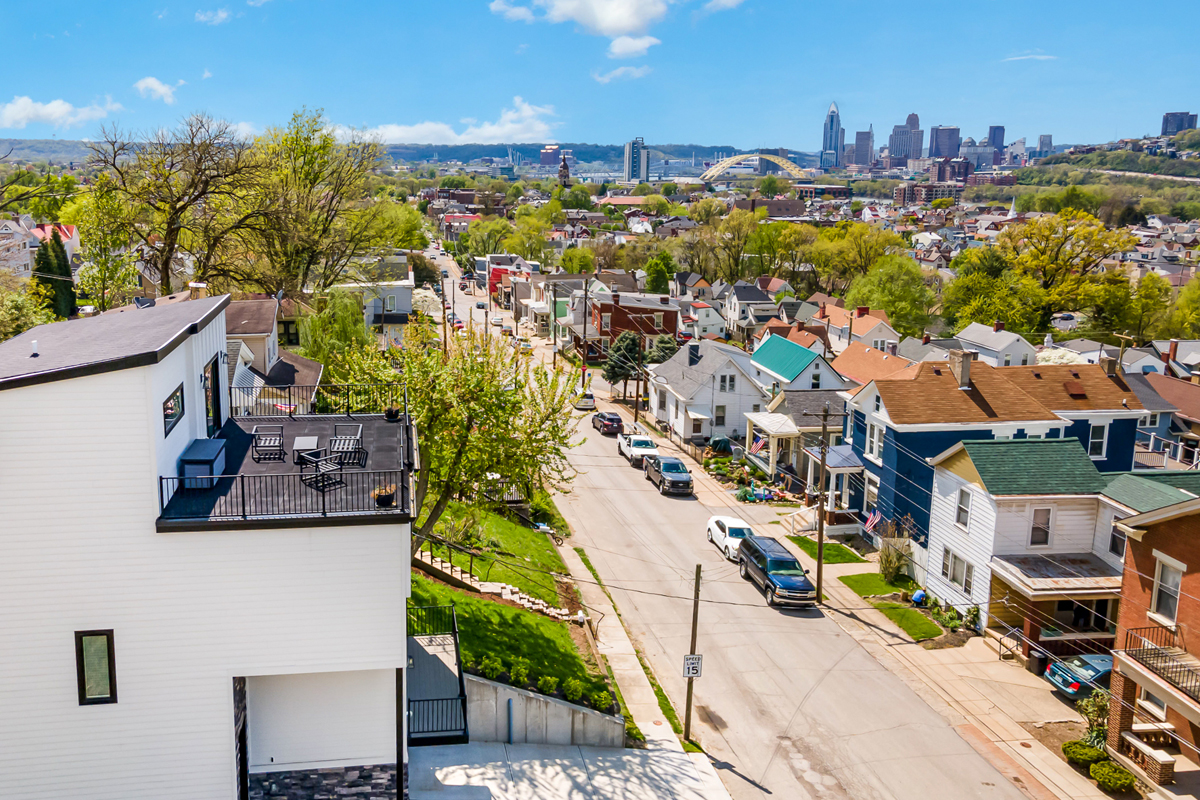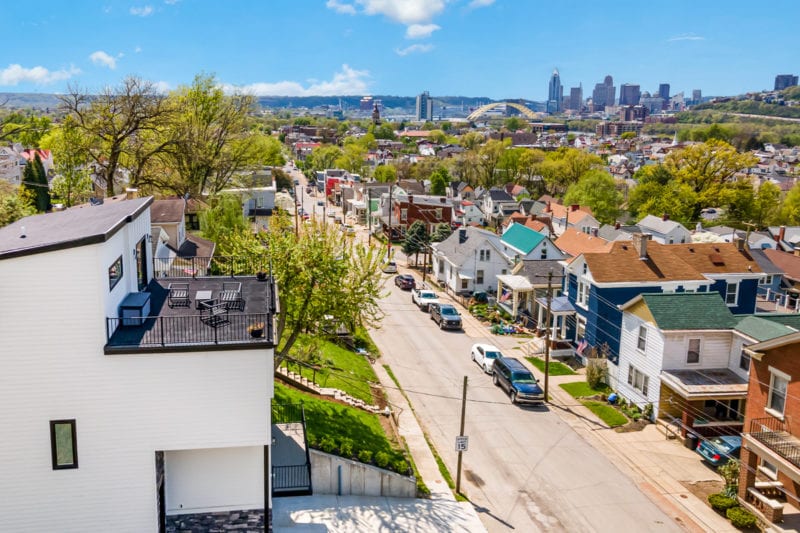 Pottebaum Point in Dayton, KY
Named after Redknot Homes founder and president, Mark Pottebaum, this development is nestled on a hillside in Dayton, KY, and has breathtaking views of Downtown Cincinnati and the Ohio River. This new custom home development features 19 total homes on O'Fallon Ave, Tenth Ave, and Walnut Street. Homesites 13-19 have been sold as part of Phase I of the development, and excavation began on Phase II with homesites 1-9, 11, and 12 available.
Pottebaum Point Homes
There are custom and semi-custom homes in Pottebaum Point that range in price from $500,000-$850,000. These homes typically have 3,000-4,000 finished square feet of living space split amongst 3-4 levels. A two-car garage, 3-4 bedrooms, 3-4 bathrooms, and a roof-top deck are all desirable features for potential owners to enjoy. These homes typically have a garage and finished or unfinished bonus space on the first level, bedrooms or main living space on the second and third levels, and entertainment space or a master suite on the home's top level with a roof-top deck.
These homes can be customized 100% to a client's preferences both on the exterior and interior. In addition, we have in-house selections coordinators and designers who are ready to help clients achieve their unique home design. From modern to the traditional, farmhouse to urban, and all the styles in between, we have experience with all interior and exterior design styles at Redknot Homes.
Prime Location in NKY
Residents of Pottebaum point can simply walk down the street to enjoy the dozens of local restaurants, breweries, boutiques, salons, and more in Dayton, KY, and Bellevue. Bellevue Beach Park is also just a 5-minute walk down the hill to the riverbank. In addition, a short 5-minute drive can take residents to everything Newport offers on the levee, and just over the bridge is The Banks and Downtown Cincinnati.
Pottebaum Point is easily accessed via I-71 and is just a 20-minute drive to Cincinnati/Northern Kentucky International Airport, convenient for those who are often traveling for work or pleasure. Additionally, northern Kentucky University is a 13-minute drive away, Xavier University is a 15-minute drive away, and the University of Cincinnati is only a 10-minute drive away, making this location great for residents who may work or attend these universities.
Why Choose Pottebaum Point
Building a custom or semi-custom home on the Northern Kentucky side of the Ohio River is a great way to be close to Downtown Cincinnati without paying high downtown prices. Pottebaum Point is tucked away to feel like a small neighborhood, yet has excellent city views and is walking distance to dozens of dining and entertainment options. We think it's the best of both worlds!
Contact us today to speak with one of our New Home Specialists about Pottebaum Point!