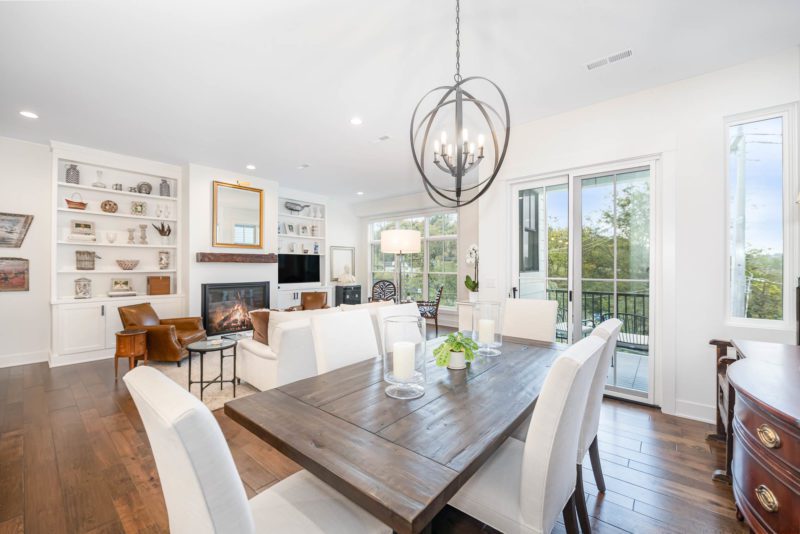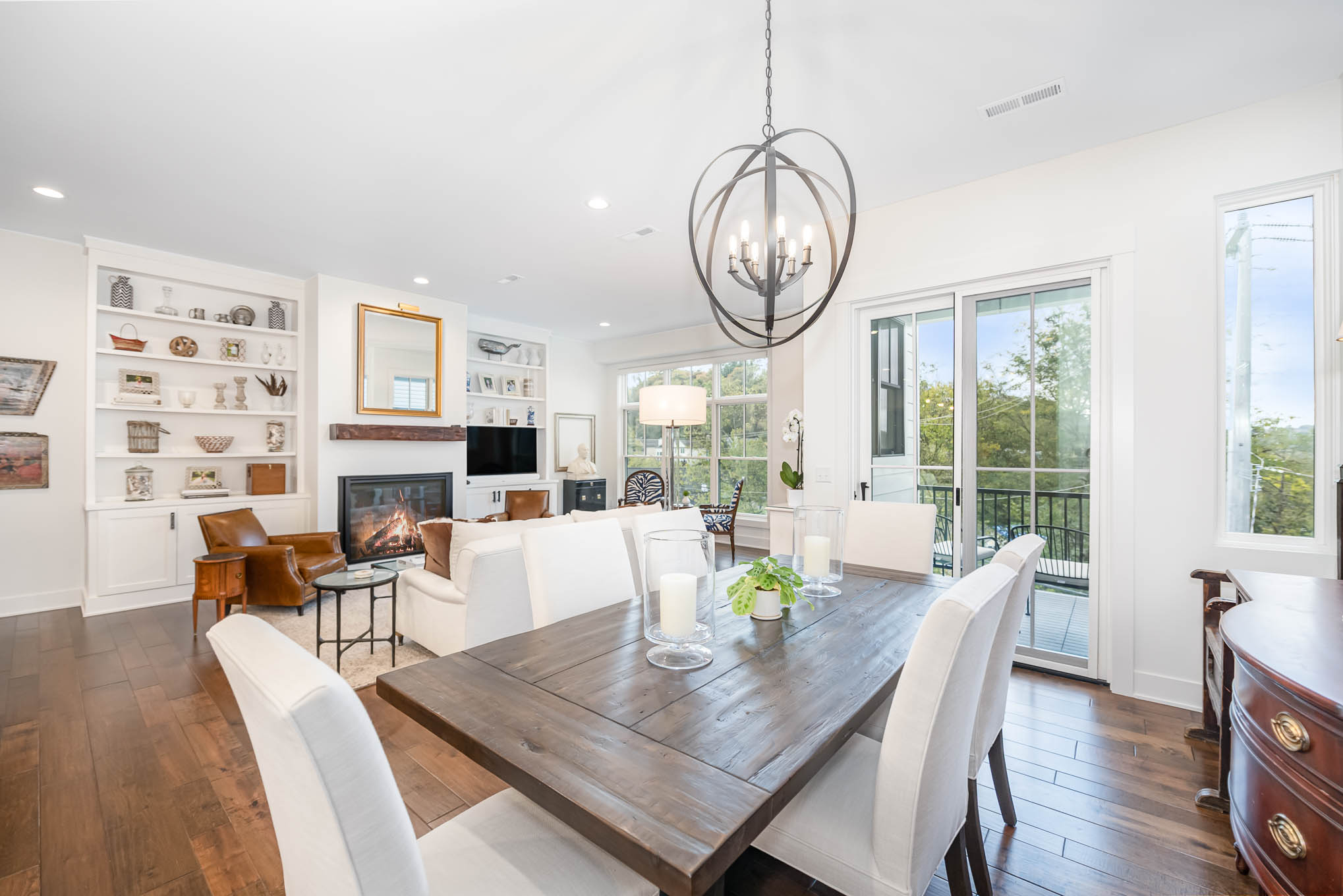 Many of our clients are building their dream home and the home they want to grow old in! There are many features and floor plan options that can make aging-in-place an enjoyable possibility. It's a great idea to think ahead and add features that make aging-in-place a possibility. Specifically, both for yourself and/or a family member who may move into your home. An additional benefit of aging-in-place features is that they add to an existing or new home's resale value when done in an aesthetically pleasing way. This post will review the best aging-in-place features for your new home construction or remodel.
First Floor Owner's Suite
The first, and perhaps most important, consideration for many homeowners looking to age in place is having an Owner's Suite on the first floor of their home. Having a first-floor Owner's Suite has become one of the most desirable design elements in new construction homes. This is a popular design choice for homeowners of all ages because of the close vicinity to the main living areas.
Specifically, some people prefer to have the Owner's Suite right off the kitchen for easy access, while others prefer to have it on the opposite side of the home for more privacy. Both options provide easy access to the kitchen, dining room, and main living areas which is essential in maintaining independence in later years of life. For privacy in a family home, putting the Owner's Suite and the guest/children's bedrooms on opposite ends of the home is a good option. The main living spaces can be in the center of the home and bedrooms off to the sides.
Limiting Stairs
Another consideration when planning a first-floor Owner's Suite is the ease of access. An Owner's Suite on the first floor is convenient once you're in the home, but how easy is it to get into the home itself? Specifically reducing or eliminating stairs to make entering the first level of the home is essential. This can be done while designing a new home, or ramps and assistive devices can be added to existing homes.
When entering the home through the front door or garage, even four or five stairs can be challenging. Considering this early from the design stage allows for step-free entryways, avoiding the need for unsightly ramps, etc. Changes in elevation are more difficult to achieve during a remodel but are possible. Otherwise, there are ramps and other devices that can assist, although they are not as attractive options.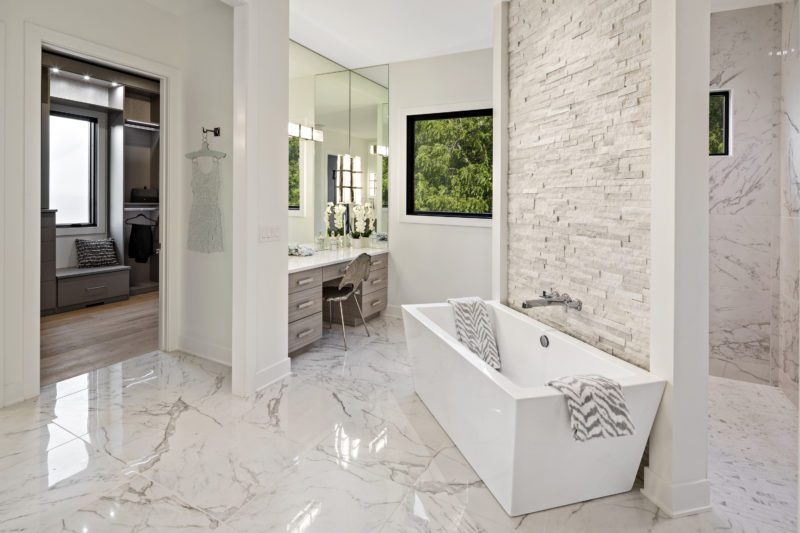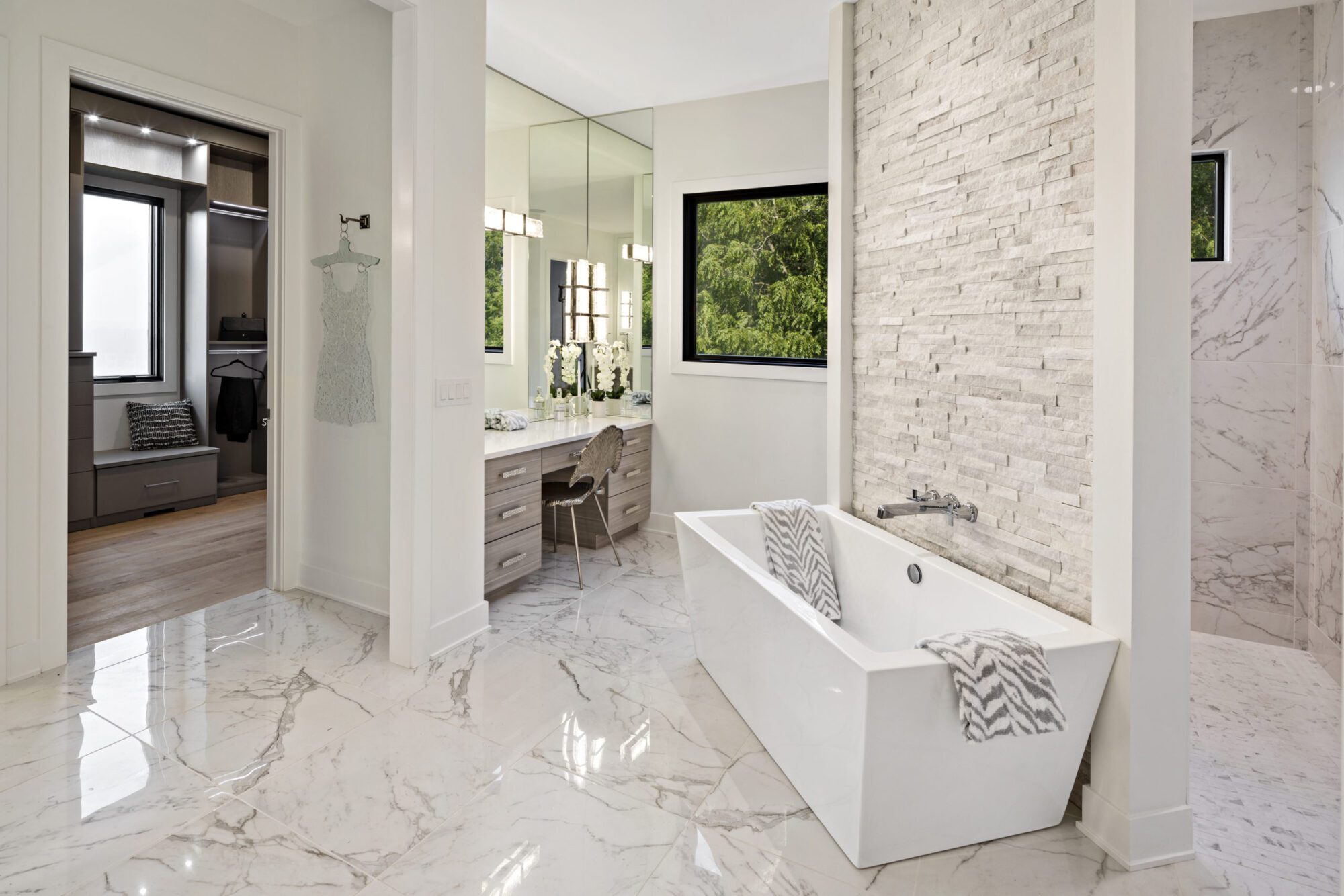 Walk-In Shower
Unfortunately, falls in the bathroom are one of the most common ways people suffer injuries in their homes. A solution to the majority of falls in a bathroom is a walk-in shower. Specifically, a walk-in shower can be completely open with no threshold to step over. As a result, this eliminates the risk of tripping and even allows for the use of a walker or other assistive device in the shower.
Bathing is also made easier and more comfortable by installing a bench seat in the shower. These showers typically have showerheads that face away from the open entrance. Additionally, we use a gradual slope in the floor to help drain water off the shower floor. For even more stabilization, there are several tile options available that provide extra traction to further prevent slips. Finally, using gripping floor mats for ultimate traction.
Open Floor Plan & Wide Doorways
An open floor plan makes it much easier to get around the house! In general, an open floor plan maximizes a homes' square footage. As a result, the home feels larger than the true square footage may indicate. Large windows with an open floor plan take advantage of natural sunlight. Also, more light from the outside can reduce utility costs for interior lighting and improve your mood!
Additionally, open floor plans make it easy to get around the house with an assistive device. The fewer tight corners and doorways there are, the better. Later in life, a special bed or medical equipment may be necessary for the home. Generally, there is more flexibility with the use of space as your needs change. Not to mention air circulation is better in these homes as well.
Wide Doorways
Using a wheelchair, walker or other assistive devices can sometimes be difficult. Specifically, entryways to bedrooms, bathrooms, and other private areas can feel like a challenge. However, these areas are more accessible when doorways are at least 36 inches wide. This makes getting around the house easier, especially with an assistive device such as a walker or wheelchair. Additionally, removing any raised thresholds in doorways can reduce the risk of tripping in the home.
Add an Elevator
An elevator may not be necessary for owners with a ranch-style home and a finished basement. However, if you have three stories or more, you should consider an elevator in your home. An elevator is easy to incorporate into a custom floor plan during the planning phase. It can be installed during the construction of the home or later in the designated space.
Another option is to add an elevator to your existing home as part of a remodeling project. Depending on the existing home's floor plan, this can either be a large, costly project or simple addition. Most existing homes built in 2000 or earlier do not have designated spaces for an elevator.
While an elevator may seem costly, it increases the resale value of the home substantially. Although you may be okay without an elevator in a 3-4 home, most people would prefer to have one. As a result, adding an elevator greatly expands the pool of potential buyers down the road.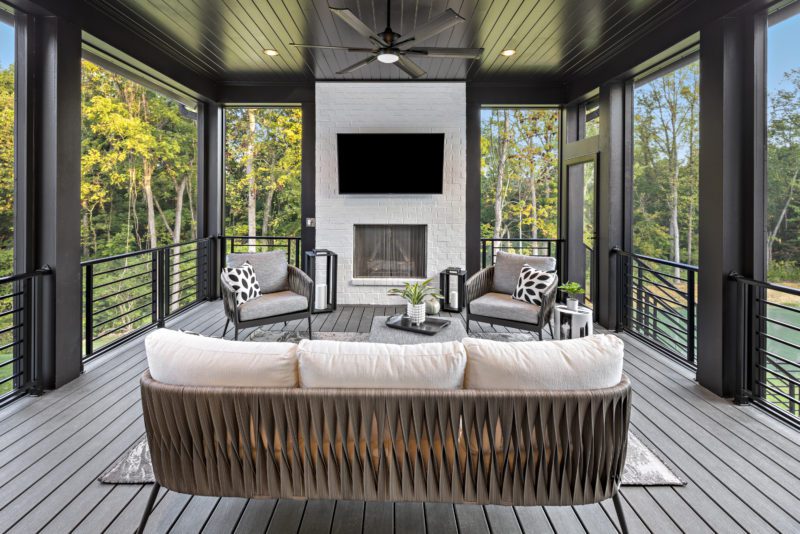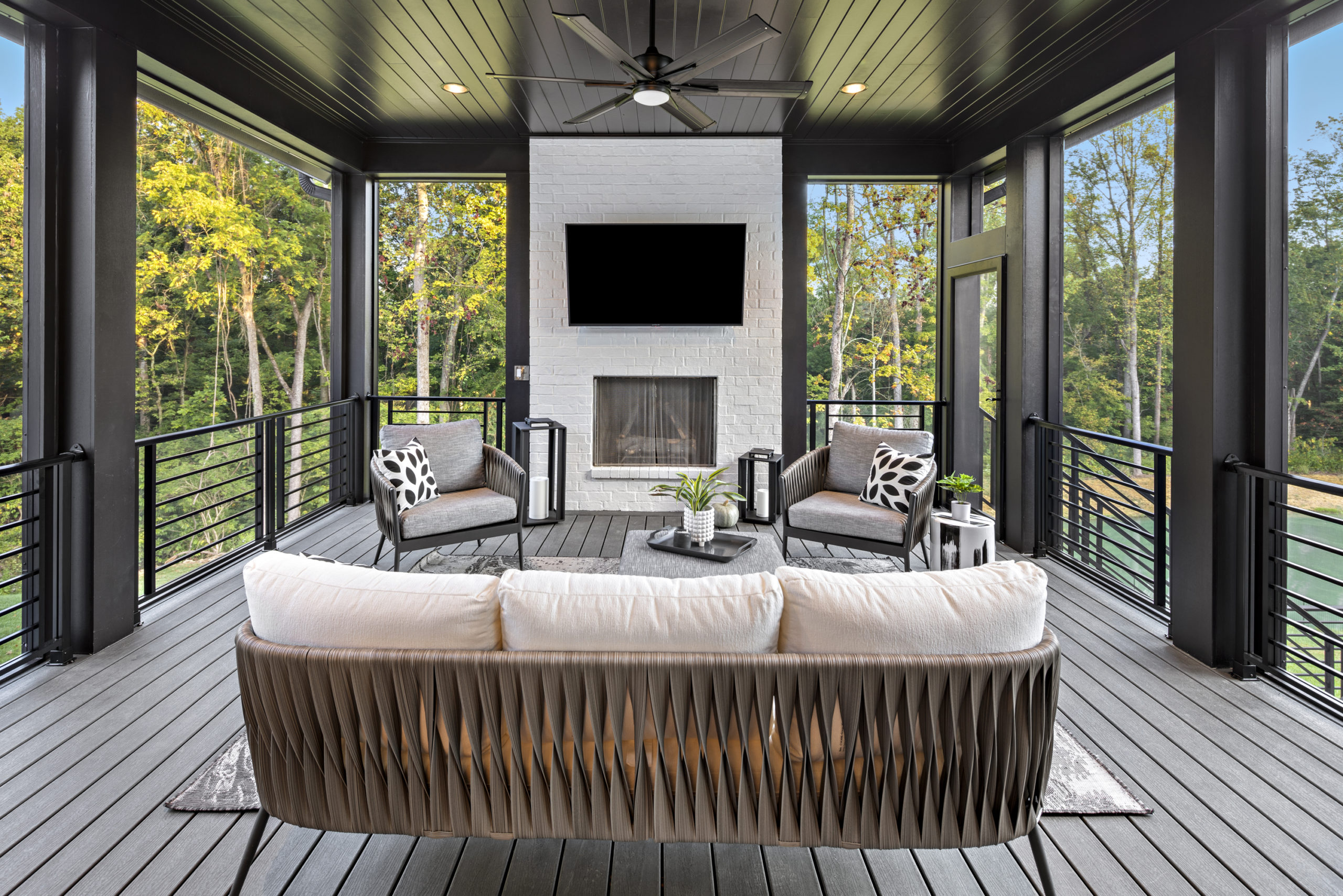 Three or Four-Season Rooms
Being able to enjoy the outdoors safely and comfortably as we age is critical! In climates such as Cincinnati, Ohio, the winters and summers can be harsh. A three-season or four-season room is the ideal way to enjoy the outdoors in comfort. Both of these options keep the bugs out and can regulate to some degree, the temperature of the room. Additionally, these rooms can be great entertainment spaces for family and friends to visit.
Three-Season Room
A three-season room, such as the one shown, is partially insulated and screened in to keep bugs out. A ceiling fan keeps it cool in the summer, and a fireplace keeps it warm and cozy in the fall and winter. However, even with the fireplace, the extreme cold may be too much to enjoy in a three-season room. Additionally, a three-season room is a less expensive option than a four-season room because you do not have to fully insulate the space or add windows.
Four-Season Room
A four-season room has insulation all around and has large screened windows. Open or close windows to allow for comfortable use of the space all year round. Ceiling fans or even air conditioning/heat from the HVAC system can regulate the temperature in these rooms. Also, a fireplace in a four-season room provides additional comfort in colder weather. With more convenience and comfort, a four-season room is more costly to build than a three-season room.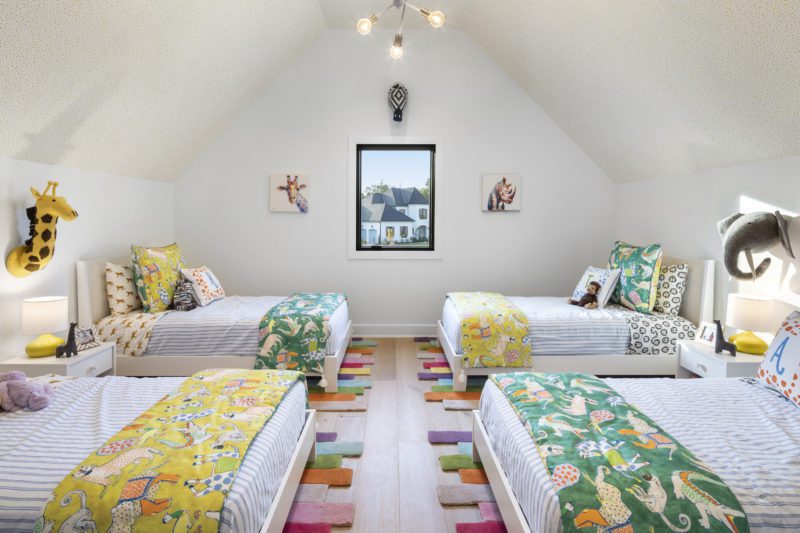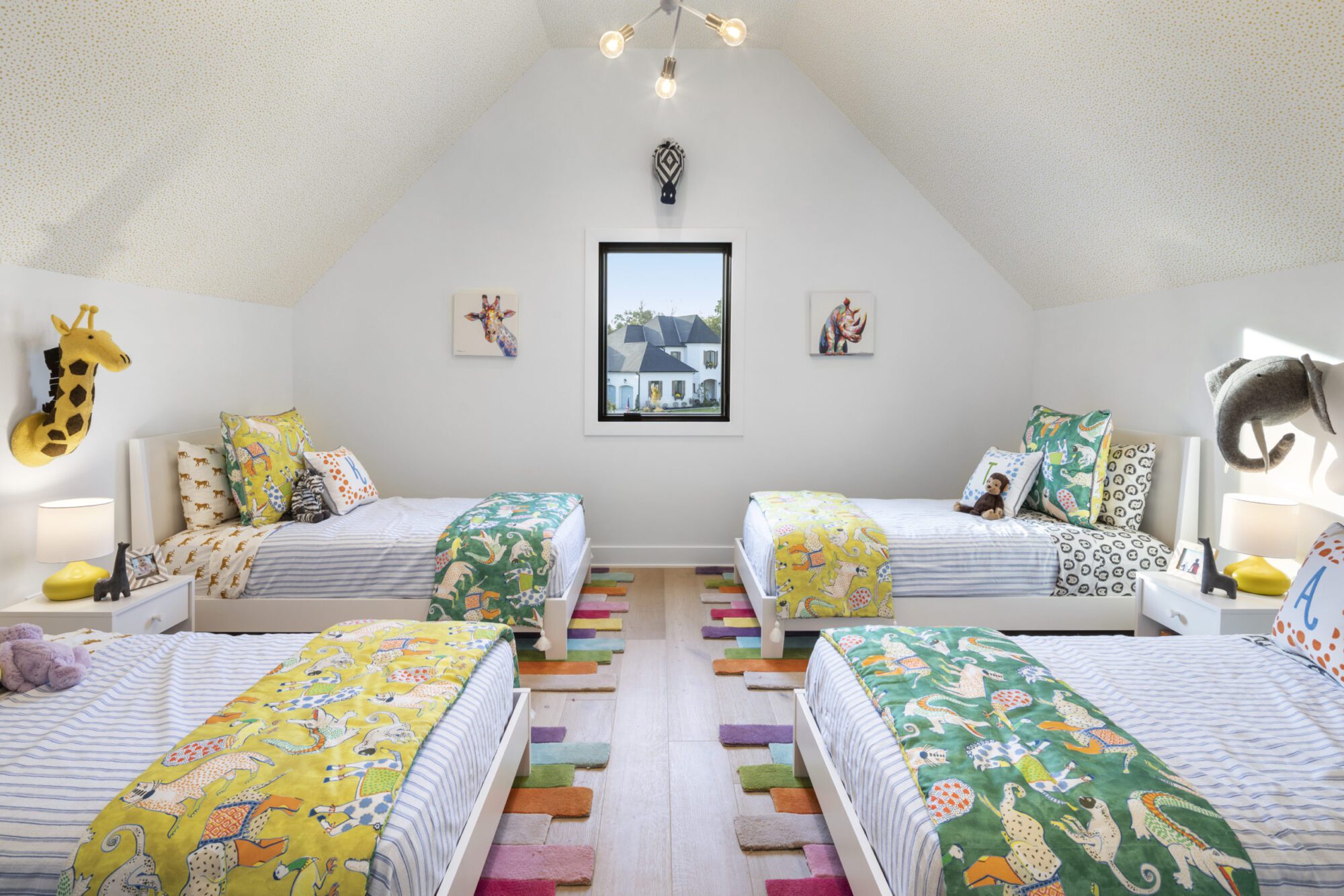 Bonus Space for Family
For many people, having a place for their family to visit is essential. Don't forget to include extra space in your floor plan or remodeling project! The key to keeping your home functional is to prioritize the vicinity of everyday spaces vs. bonus space. A guest suite, a media room, or a playroom for the grandchildren are all great family spaces.
A finished lower level is frequently the ideal solution for additional family and guest space. All of the necessities for the homeowner's daily needs can be kept on the main level for convenience. A bonus guest room and/or entertainment space could also be located in an upstairs loft area. Additionally, an entire lower level can feature a guest bedroom, bathroom, and entertainment space for guests.
Design With Aging-in-Place Features
At Redknot Homes, we build 100% custom and semi-custom luxury homes. As a result, our team is experienced with a wide variety of home designs. Furthermore, our homes have been built in the city on hillsides, in the suburbs on flat homesites, and everything in between. We get great satisfaction out of building the perfect home based on a client's style and needs. Essentially, some clients want a single-story ranch home with a finished basement as their forever home. Other clients want a four-story city home with an elevator.
Ultimately, we understand that everyone's idea of a forever home is different. For this reason, a custom home is a great option when considering a forever home. In summary, we have extensive experience with building clients' forever homes. If you're ready to build the forever home that will allow you to age in place comfortably, reach out to us online or via phone!